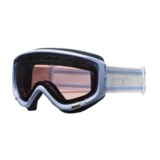 Closeouts. Precise, clear optics, a women-specific fit and adjustable ventilation make Smith Optics' Phase snowsport goggles a woman's best friend on the slopes.
Average Rating based on
13
reviews
4.538461
0
5
Reviewed by Montrose Mom from PA on Wednesday, March 5, 2014

great fit, great definition; did have to order another lens directly from Smith for flat light

Reviewed by Irish D from Germany on Monday, March 3, 2014

Quick shipping, comfortable fit and just a great pair of goggles. Can't wait to try them out in Austria next month.

Reviewed by Mom of 4 Active Boys from Iowa on Tuesday, February 25, 2014

I was very pleased with my smith goggles. I have owned smith sunglasses in the past, and find them to be a great fit for my smaller face (petite - 5' 2", 115 lbs). These goggles have done a great job to keep me protected from the harsh Iowa weather (it's has been a winter with many days in the negatives), and blocking out the intensity of the sun.

The adjustable strap on the back has made these comfortable with a hat or helmet; it has also allowed me to "share" them with my children. They do not fog up, nor do they create any type of excessive heat or moisture in the goggle area. Light-weight enough not to bother my children, but durable enough to use for sledding, boarding or skiing.

Reviewed by frankie from California on Friday, February 14, 2014

Very comfortable, lightweight and they look amazing! Couldn't ask for much more.

Reviewed by Whhouston from Texas on Tuesday, February 11, 2014

I wore these goggles skiing in January (in Utah) and they were not at all warm. They blocked some wind but my face (eye area) was freezing. I kept thinking I had the vents open but I would double check and they were closed. I honestly couldn't feel much of a difference when the vents were open or closed because the foam area is so breathable. I guess if you're skiing in warmer weather 30+ degrees, these would be good goggles. For below 20 weather, I would not recommend.

Reviewed by Skier from Colorado on Tuesday, January 28, 2014

They fit well. A little bigger than my previous goggles. The lenses are pretty light and I have only used them on clear colder days. I think on a snowy day they will be good.

Reviewed by Laura from Virginia on Monday, January 27, 2014

Good for low light conditions. Worked well with helmet.

Reviewed by racersailor from Rhode Island on Saturday, January 25, 2014

I admit I am tough when it comes to finding goggles! I have a small head and a small face, so lots of gogs don't even have a chance. Even a number of women specific models have not made the grade. So ... these fit my face and helmet well. I love the sticky band on the inside to keep them from sliding on the helmet (mine doesn't have a goggle strap). Nice wide field of vision which is unusual for me.

I also admit days one and two were under extremely COLD conditions where I was skiiing with a face mask, double helmet liners, gaiter up over the face ... First run was fine. Second run was on a tougher trailer and the lens fogged when I stopped to catch my breath and survey the terrain. At four degrees (before wind chill factor) I didn't want to be standing there holding the gogs away from my face to try and get enough air to kill the fog. NOT the whole lens but enough to make me fuss with it.

I went in and put Cat [...] on the goggles which killed the fog, but I put a tiny scratch on it. I needed a softer lens cloth I guess. Not a bad scratch but it's there now. The good news is the Cat [...] did kill any other fog issues (LOVE the stuff). I like to be able to see and do prefer to ski in sunglasses. Allowing for all that, these are pretty good and under 'normal goggle day' conditions I don't think I would have had any issues, even with fog. Two days of below zero mornings put any gear to a test!

Reviewed by Long time ski-fanatic! from Idaho on Sunday, March 3, 2013

Bought these for my wife and she loves the lens color and fit ! Smith goggles have been part of our ski equipment for many years and their quality and fit have always been excellent!!

Verified Buyer

Reviewed by Granny boarder from Minneapolis mn on Sunday, February 17, 2013

I tried on a number of unisex goggles but they just didn't fit my face. These fit and are comfortable and go well with my smith helmet. I was surprised with the ventilation. You almost do not feel these on your face. Also the spherical lens keeps your vision from distorting. They are great and at this price, a deal.