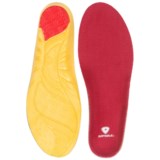 Closeouts. Designed to meet the needs of men with high arches, Sof Sole's arch performance insoles take the brunt of impact with comfort in mind.
Average Rating based on
73
reviews
4.219178
0
5
Verified Buyer

Reviewed by Linnea from Salt Lake City on Monday, February 1, 2016

I was diagnosed with Morton's neuroma and I am trying to avoid surgery. My doctor suggested inserts with good arch support. So, I tried these in my everyday run-around-the-house shoes. They are very comfortable and provide good support. Best of all, since wearing them, the pain in my toes has diminished. I am ordering a few more pair for all my shoes. I bought the men's style since I have wide feet. They fit fine in women's shoes.

Reviewed by Rough on Stuff from Idaho on Tuesday, January 19, 2016

As a nurse I walk 13 hours a day. These insoles keep my feet from hurting... ALL DAY. That is a huge value. The heel provides good cushion and since my foot tends to overpronate,the provide proper support for my ankle. On the second pair, not because they've warn out, but I would like them for other shoes. They outlasted my last pair of shoes! They are a bit bulky however so a already small shoe may to too small with these in.

Verified Buyer

Reviewed by Drwineski from CA on Friday, January 23, 2015

Good price. A must for all ort shoes. Listed as high arch but I think these will work for all arches

Verified Buyer

Reviewed by STLMOM from St. Louis on Friday, December 19, 2014

These inserts are great. They provide very good cushioning. I would not say it is a lot of support that they provide, because they are made with any hard parts to support your foot, but they are very well made for cusioning.

Verified Buyer

Reviewed by Jun from China on Thursday, December 4, 2014

comfortable sole

Verified Buyer

Reviewed by 2ThundersEcho from Elk, WA on Tuesday, October 7, 2014

These arch support really work'. I purchased quite a few pairs of boots looking for a pair that didn't hurt my feet. All I needed was a pair of these, and I would have saved a LOT of money. Instead, I'll buy another couple pairs of insoles and make those boots all wearable at a bargain price.

Verified Buyer

Reviewed by Anonymous from St. Louis on Tuesday, October 7, 2014

These provide good cushioning but not a lot of arch support for which I was hoping.

Verified Buyer

Reviewed by Gerard6656 from Colorado on Sunday, October 5, 2014

These are nice inserts. They fit easily in shoes and provide more comfort and support than similar products from Dr. Scholl's. They are not an alternative to the green superfeet. These are kinder and gentler. For some that will be good. Others may be disappointed.

Reviewed by Keeley from Wisconsin on Tuesday, August 19, 2014

I wish that all the foot beds would come with a measurment, so here is the measurment for
sofsole mens size 9 to 10.5, 28cm long, 6mm thick at the end of the big toe, 100mm wide.
good high arch support, soft , will be using in my fall and winter boots.

Verified Buyer

Reviewed by Skiqueen from washington on Saturday, August 9, 2014

These had good reviews, but not what I was looking for. There are mostly gel, with very little firm support. Going back to superfeet.