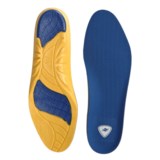 Closeouts. Absorbing painful shock for a more productive workout, Sof Sole's Athlete Performance insoles offer gel cushioning with moisture and odor protection.
Average Rating based on
80
reviews
4.437500
0
5
Reviewed by Johnny the Piker from California on Monday, July 6, 2015

Have purchased quite a few of these through the old STP discounts. There has been enough demand for this product apparently the coupons are quite restricted on these now. At half the list price, I love these insoles!! They give new life to old running shoes that have plenty of outsole left but need some bolstering where insoles are concerned.

I would say that these are not, however, "long life." Still an excellent product, and I'm not sure any gel inserts similar to these would give more than 4-6 months of life. This is running 3-5 times weekly on them. I throw old ones into my regular "around town" shoes.

At current list price...I can't manage to pull the trigger.

Verified Buyer

Reviewed by Brett-the-PatentSearcher from Maryland on Monday, April 20, 2015

These insoles are very high quality and have cushioning gel in two main areas, thus they are sturdy and give just enough comfortable shock absorption where needed. I like this concept better than my other gel insoles because these use smaller gel areas.

Verified Buyer

Reviewed by homeroni from black swamp on Wednesday, April 1, 2015

I have had a pair for a few months and ordered a second pair so I have them. I wear at work all day seven days a week and they are perfect. The vision is firm and supportive. Reduces shock very well

Verified Buyer

Reviewed by trailhiker1 from sacramento on Sunday, March 15, 2015

first of all these are great insoles.i have very narrow bony feet and these provide exceptional comfort. They fit very good in my size 12 med width sneakers. I was a bit disappointed to see that my 35 percent off coupon didon't apply to these insoles so it really didn't seem like much of a deal with the std. 10% off. I should have looked at my shopping cart a little more closely..!

Verified Buyer

Reviewed by Smallhorse from NC on Monday, January 19, 2015

The perfect amount of cushion in a design that is great for neutral shoe runners.

Verified Buyer

Reviewed by Ellen from Minnesota on Friday, January 9, 2015

These insoles have one huge advantage over the ones I've bought at drugstores and so forth: they are stiff enough to push down into a shoe or boot without having to stick my hand in to make sure the toe of the insole doesn't fold up. They also provide good support; I really can't tell whether I have these or my custom orthotics in my boots.

Verified Buyer

Reviewed by Beerman from Wisconsin on Monday, December 29, 2014

These insoles are very good to run in at a very affordable price. I bought the size 12 and simply slipped them in my running shoes without any cutting at all and they are great. A perfect fit!

Verified Buyer

Reviewed by Outdoorsandmore from Port Orchard, WA on Sunday, December 21, 2014

Brought my shoes back to life with the comfort I need for my daily running and walking. Love the support!

Verified Buyer

Reviewed by peipeipei from California on Saturday, December 20, 2014

This is I bought the most comfortable insoles, will buy

Verified Buyer

Reviewed by Alderman Farmer from Western Massachusetts on Tuesday, October 7, 2014

Recovering from knee surgery, I was advised to walk in shoes that could absorb shock. These insoles are great if you have shoes or boots ever-so-slightly larger than your normal size. They really are heavenly to walk on and I my knee thanks them! Sizing marked on box is accurate to shoe size.