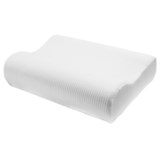 Closeouts. Enjoy a more rejuvenated sleeping experience when you lay your head on Soft-Tex's Classic Contour pillow. Constructed using hypoallergenic memory foam, the Classic Contour pillow features a luxuriously soft cover with anti-stain protection.
Average Rating based on
104
reviews
4.019230
0
5
Verified Buyer

Reviewed by Janet the shoe lady of Anaheim from CA on Monday, November 6, 2017

I took the pillow in to the bedding store, he said the wider in goes under the neck. Very nice pillow.

Verified Buyer

Reviewed by Robinwry from colorado on Thursday, November 2, 2017

this pillow has good give and support. Its depth/height has taken me a bit to get used to since my last foam pillow had collapsed quite a bit.

Reviewed by Aray from INDIANA on Saturday, August 12, 2017

I absolutely love this pillow. I am a back sleeper and it is perfect. Other pillows kept my neck either at weird levels or so soft it felt like it was on the matress. This keeps your body aligned for great sleep.

Verified Buyer

Reviewed by J R from Georgia on Wednesday, April 12, 2017

I prefer contour pillows of memory foam, but they can be hot. This pillow has holes to help the user stay cool, but it is not as effective as another pillow I was replacing which had a groved gel coat on the top surface.

Verified Buyer

Reviewed by Happy To Chat from Western New York on Tuesday, March 14, 2017

These pillows work especially well this side sleeper because they support my neck at just the right angle. The only improvement I would ask for is if they were a few inches longer. You will find that a standard pillow case has lots of extra material at the end.
I wish they hadn't "cheaped" out on the length.

Verified Buyer

Reviewed by TigerATC from Erie, PA on Monday, February 27, 2017

I bought this for myself and so far I like it. No complaints.

Verified Buyer

Reviewed by Fontaineantmyname from Michigan on Saturday, February 25, 2017

Was hoping for a firmer feel.

Reviewed by NE Surfer from MA on Thursday, January 19, 2017

I previously wrote a positive review for this pillow, I must retract... I had my first Soft-Tex pillow for ~5yrs before the foam started to fail... was the best pillow I ever used. I reordered 3 so I wouldn't need pillows for many years. I didn't pay much attention to the packaging when they arrived.

The pillow foam failed after ~4months!... sore neck all over again.

It took an escalated call to and an aggressive chat with STP customer service to finally get them to accept a return past their new 90 day return window. STP did finally refund the full amount, but only after a lot of !!!!!!!!!!!!!

STP is not what it used to be under the original owners. This issue and the difficulty in the returns process wouldn't have ever happened under the original owner's watch (based on 20 yrs of experience!!).

Verified Buyer

Reviewed by pixille from Florida on Tuesday, June 21, 2016

I'm on my second Soft-Tex pillow, and it is a supportive & very comfortable pillow. I have some neck issues due to a rear-end auto accident, but sleeping on this pillow gives me just the right support, and allows me to sleep through the night. The smell is not too off-putting & is gone if you don't use the pillow the day it arrives. Great price for a necessary simple pleasure.

Reviewed by creeper from UpperMissRvrValley on Tuesday, June 21, 2016

I have a bad shoulder. Support for my neck is vital if I'm to sleep well and wake up without hurting. Down pillows just don't provide the support needed so I decided to take a chance on this one. I received this pillow yesterday and slept on it last night. When my head first hit the pillow I sighed with pleasure. It was as if it had been molded to my head. I wound up sleeping for seven hours straight...the first time I have done so in years. Even better, I woke without an ache or pain.

I'm baffled at others' reports that it is soft. Maybe my head's just full of air, but there was no settling, The pillow kept its shape nicely.

I cannot recommend this pillow highly enough. Buy one.