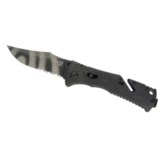 Closeouts. SOG's Trident TigerStripe knife is proudly made in the USA and features a unique Groove handle design that lets you safely use the blade without fully opening the knife. This tactical-police-rescue knife uses the time-proven S.A.T. (SOG Assisted Technology) assisted blade opening mechanism for quick, one-handed blade deployment.
Arc-Actuator lock makes the Trident lock stronger and release easily
One-handed safety ensuresthe knife will stay securely closed
Partially serrated steel AUS 8 blade
Digi-Grip Zytel® handle
Blade is finished in non-reflective TigerStripe Black TiNi
Reversible-removable pocket clip
Blade: 3-¾"
Open: 8-½"
Closed: 4-¾"
Weight: 3.4 oz.
Closeouts. USA.
Please read our policy on ordering knives. Export restriction: cannot ship internationally.
Average Rating based on
11
reviews
4.545454
0
5
Verified Buyer

Reviewed by TXAG91 from Overland Park KS on Monday, August 10, 2009

SOG has great products, I have purchased several from STP. I carry this knife everyday and the price was great.

Best Uses: Camping, Home, Hunting, Survival
Describe Yourself: Avid Adventurer
Pros: Comfortable Grip, Durable, Sharp Blade, Smooth Locking Mechanism

Verified Buyer

Reviewed by David the Climber from Orange County, CA on Tuesday, May 27, 2008

Just got it but its done its job when required. "Arc-Actuator" tech makes for some easy lock and release. The groove is a nice feature for quick (blade non-opening) cuts. Slick looking to boot!

Best Uses: Backcountry Camping, Campgrounds, Day Trips, Road Trips
Cons: None yet
Describe Yourself: Avid Adventurer
Pros: Comfortable Grip, Durable, Great action and safety, Sharp Blade

Verified Buyer

Reviewed by tom from ocean city, NJ on Wednesday, May 14, 2008

Excellent price, good size, sharp, strong blade

Best Uses: Hunting
Describe Yourself: Avid Adventurer
Pros: Comfortable Grip, Durable, Sharp Blade

Verified Buyer

Reviewed by Johnnie j from Las Vegas, Nv on Monday, April 14, 2008

The SOG Trident is a durable knife with a sharp blade with half serration that makes if very versatile. It can be used as a general purpose Light/ Medium-duty survival knife. It has a pocket clip that drops the body of the knife below the pocket or waistband of your clothing allowing it to be readily concealed around town.
It is light and opens easily in a fast efficient manner for those tasks that require easy one handed presentation of a knife.
I own two and wouldn't think of leaving home without at least one of them.

Best Uses: Backcountry Camping, Campgrounds, Day Trips, Road Trips, Survival
Describe Yourself: Casual/ Recreational
Pros: Comfortable Grip, Durable, Quick and easy opening, Sharp Blade

Verified Buyer

Reviewed by Collector from Annapolis, MD on Friday, April 11, 2008

I lliked it so much that in fact I did buy it again, as a Birthday present for my Brother

Best Uses: Day Trips, Survival
Describe Yourself: Casual/ Recreational
Pros: Comfortable Grip, Durable, Sharp Blade

Verified Buyer

Reviewed by Jeffrey from LaConner,Wa on Saturday, April 5, 2008

the quality was not what I expected for the price and the blade did not open as easily as the description in your catalog suggested.I will be returning this knife for a refund!

Cons: Poor Craftsmanship
Describe Yourself: Avid Adventurer

Verified Buyer

Reviewed by XD from Austin,TX on Tuesday, March 25, 2008

SOG is a reputable mfr and the tiger shark is a quality product.

Best Uses: Backcountry Camping, Day Trips, Road Trips, Survival
Describe Yourself: Casual/ Recreational
Pros: Comfortable Grip, Durable, Sharp Blade

Verified Buyer

Reviewed by ras from Scottsville, VA on Monday, March 24, 2008

It's too large to be a pocket knife, and the 'notch' exposure of the blade allows damage to the edge if put into a pocket with other metal things rolling about.
Is best suited to clip attach as replacement/backup to fixed blade.

Best Uses: Backcountry Camping, Survival
Cons: 'Notch' edge exposed
Describe Yourself: Casual/ Recreational
Pros: Comfortable Grip, Durable, Sharp Blade

Verified Buyer

Reviewed by L.J. from Everett, wa on Tuesday, March 18, 2008

blade holds a very sharp edge after multiple cuts. I use it to cut rope for rigging on fishing and rafting trips. Exceptionally easy to open with one hand.

Best Uses: Backcountry Camping, Campgrounds, Day Trips, River Trips, Survival
Describe Yourself: Casual/ Recreational
Pros: Comfortable Grip, Durable, Sharp Blade

Verified Buyer

Reviewed by charver from Stamford,ct on Monday, March 10, 2008

Out in the feild

Best Uses: Backcountry Camping, River Trips, Survival
Describe Yourself: Avid Adventurer
Pros: Comfortable Grip, Sharp Blade

Reviewed by Dispatcher from CA on Sunday, January 27, 2008

I don't leave home without it. I just nicknamed it Pokey, I hope the name sticks.

Best Uses: Cuttin' stuff
Pros: AUS8 is bloody great mate, No slip grip is hip, Sharp lookin' - meow