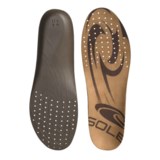 Closeouts. Because not all feet are the same, Sole's Thin Casual custom footbeds are fully moldable -- either through heating or everyday wear -- to provide customized comfort and support.
Average Rating based on
19
reviews
4.421052
0
5
Verified Buyer

Reviewed by JT from SF from San Francisco on Monday, October 5, 2015

Honestly, these insoles didn't work for me. I love the Sole flipflops and I thought the insoles would be just as comfortable. But, they fit funny and put pressure on the outsides of my feet.

Verified Buyer

Reviewed by Jimmey C. from Wisconsin on Wednesday, September 23, 2015

Perfect for shoes with not a lot of wiggle room that you want to be more supportive. I have the regular thickness version as well and love them both.

Verified Buyer

Reviewed by Nick from Greenville on Tuesday, September 15, 2015

Great for dress shoes. Got these since I already had the normal ones for my running shoes. Love them

Verified Buyer

Reviewed by James Lee from Texas-TX on Saturday, July 11, 2015

Bought several on sale. Real bargain. Provides excellent heal support and does not cramp the forefoot.

Verified Buyer

Reviewed by James Lee from San Antonio on Tuesday, July 7, 2015

Bought two to try out. Worked so well that I bought 4 more for myself and 3 for my wife. These inserts have made our everyday shoes even more comfortable. The support is consistent and the thinner fore foot makes them usable for almost all of our shoes--provides support for heal and arch,

Reviewed by CP Colorado from Colorado on Thursday, February 5, 2015

I need footbeds for all my shoes. I have spent a lot of $$$ on Sole products at REI ($45+tax). $19 for Sole is a real bargain. These are good for shoes that don't have much spare room to begin with.

Reviewed by SA from Tennessee on Tuesday, January 13, 2015

I am very happy with these as there are thinnest insoles I have found and are ideal for tight shoes that can't afford to get more snug. I have not bothered with the oven yet and they are feeling good after two days of use.

I am typically a size 10.5 and ordered an 11. However, I should have gotten a size 10 probably. The heel cup area is too wide for some of my shoes, and due to its stiffness it will not easily fit into the boots I purchased them for. Also, I had to do extensive trimming off the the toe width in order to fit my shoes, hence I recommend ordering the smaller of the two if faced when the choice. That said, careful trimming is more than worth the time... and you can always trim more, but you can't trim less!

Also note that these have very little cushion whatsoever, which is not bad. Cushioned insoles are a dime a dozen, but these stand apart from the rest.

While this is a very thin sole in the front, the arch and heel cup is slightly thicker, which will add some lift to the heel. If they already have a bit of a heel on them (dress shoes or boots) then just be aware that the heel-toe drop will be affected. Though out of all the aftermarket insoles I have tried, these are the least extreme.



Verified Buyer

Reviewed by DS Hearn from Oregon on Wednesday, December 17, 2014

These inserts made all the difference in not only the comfort of my feet, but also knee and low back. They are easy to use, comfortable and mold to feet well with wear, and add just the right amount of stability and arch support. Walking feels much better, and adds life to the shoes. I bought two pairs so that I don't have to swap them out every time between my main two pairs of shoes (one casual dress and the other athletic shoes).

Verified Buyer

Reviewed by Pam from Washington on Monday, September 22, 2014

I have 5 pairs of "SOLE" insoles. They are by far the best insoles if you have high arches. They mold to your feet with the warmth of just your own feet. DO NOT HEAT THEM IN THE OVEN!!

It takes about 30 minuets of wearing them for them to soften and form. The holes in these particular insoles are not comfortable for me without socks. I am usually wearing socks when I am using these.

I wear Birkenstocks for sandals. I wear a 38 regular in Birkenstocks or a 8 1/2 M in shoes. I buy and women's 9 in these the 8's are WAY to small. You can shape the toe area to fit you shoes by cutting with scissors.

I suffered for decades without good support for my arches. My feet have healed and I have no pain at all after wear these for 1 year in all my winter shoes.

Verified Buyer

Reviewed by GrumpySquirrel from Vermont on Friday, May 9, 2014

I heat molded these and put them in dress shoes and they simply feel terrific.