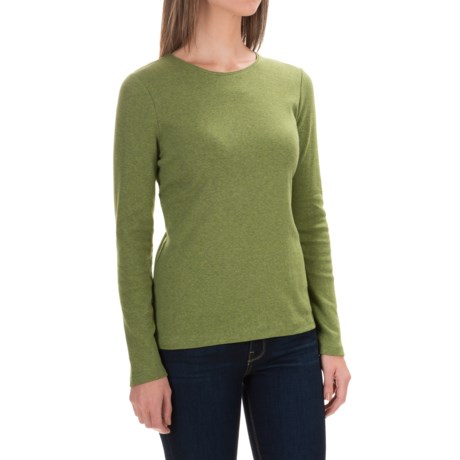 I bought the xl, so I don't really know. Mine go to the hip line, about 27 inches.

I have a regular length shirt and it measures 24 inches from the neck to the bottom hem.

I have a regular length shirt and it measures 24 inches from the neck to the bottom hem.

This is not a long shirt. I ordered it for my daughter who is 5'3". I am 5'6 and I think it would be too short on me after one wash.

I believe I ordered the regular and it fits me well. I do not know the length of the petite but they are usually at least 2 to 3 inches shorter in length. My guess would be too short for you unless you like your tee shirts on the short side.

I bought the regular and it is 24 1/2 inches long after washing though I don't think it shrunk. The arm length is long too. It's light weight, great for layering.

The shirt is not long, so the petite would probably be too short. I am tall, bought talls, and they're "normal" on me.

The shirt I measured is a MED, but I don't think it's a petite, at least it isn't marked as such in the shirt. From the back neck edge to the hem it measures 23". It's a nice soft shirt, but has gotten a bit shapeless after several washings.

I ordered four shirts and all were regular length. My size large measure 17 inches from the underarm to the mid hip length hem. A petite would generally be sized shorter by about one and a half inches. I have laundered all of the shirts several times and they did not shrink.

Hi, I purchased these in the regular length and at this point they have been washed several times--folded in half lengthwise and measured from the neck at the center of the back, this is 23" long. I am 5'4" and would have preferred another inch or two in length, because I like a tee shirt to hit at the lower hip--a bit longer than shown on the model. I would guess that for anyone taller than myself, a petite length would be too short. On the other hand, if you don't mind if they hit at the upper hip or a little higher, these are available at a great price and if you don't mind sending them back if they don't work out, it might be worth a try!



I really appreciate the almost instant feedback re this cotton knit shirt. I am 5'7' and do not like short shirts, skirts or pants on me so with your feedback the PETITE is out. I found a 2 in REG and will go for that and see how it works. THANKS AGAIN ALL! Always impressed with STP' s customer service and their customers LIKE YOU!

Hi, they stretch out in the body as you wear them. I bought one as a pajama top as I like pajama separates. The neck never stretches, but the rest does. Soft cotton, but not that long. I'm 5'3" and have short arms so the length is fine for me. I think this may be a problem, and it's dumb to return them at this price, so unless you intend to push up the arms, mmmm, not so sure they would work. Sorry...

I am 5' 61/2" tall and usually wear a medium in shirts. I bought these t's in a petite medium because there weren't any left in the regular size. The shirt comes down to my high hip, which is about where I like it. They are a little below your waist line but not below your hip. These are made by Talbotts, so you can go to their website and look at their size guide for a similar T. Good luck. I really like them. Nice quality.