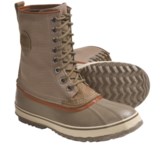 Closeouts. When it's snowy and cold and the going gets slick, you'll be glad you invested in Sorel's 1964 Premium T CVS pac boots -- super warm, super waterproof and styled like vintage Sorel predecessors in waxed canvas and vulcanized rubber.
Average Rating based on
62
reviews
4.322580
0
5
Verified Buyer

Reviewed by Adam from Washington on Tuesday, December 2, 2014

These boots are great! the waterproof canvas upper results in a lighter weight boot compared to leather but does not sacrifice protection from the elements. These boots tend to run about a size large, I normally wear 8s and the 7s fit great with a good pair of wool socks.

Reviewed by Johnny Law from Minneapolis, Minnesota on Wednesday, October 22, 2014

I live in Minnesota and last year we had the worst winter on record since the 1930's in terms of cold weather and snowfall. We had some 60 consecutive days of high temps below 32 degrees and about 30 of those days had highs below 0. I bought a pair of these boots last fall just before winter hit and wore them everyday from the first snowfall in November until the snow had melted in late April. My feet stayed warm and dry all winter. I take the bus to work in Minneapolis and these worked perfectly to commute into the office. I even took them far North and trudged around hiking in the North Woods for hours when it was -26 degrees out and the snow was very deep. Not a problem with these boots. While I had frostbite on my face and hands my toes were toasty warm. The construction is high quality and I am confident that they will last many years to come.

They do run a bit large and I had a tough time deciding whether to go with a size 13 or 14 - I usually wear size 14 shoes but these boots looked massive when I tried them on. I went with the 13's and found that the insulating boot does loosen up even if it is tight at first.

Verified Buyer

Reviewed by Johnny the outdoorsman from New York City/Vermont on Friday, October 17, 2014

I really like these boots. I spend time in both the dense city of New York and the rural mountain of Vermont and I find these boots to be capable of handling anything both places can throw at them. They are indeed waterproof and extremely warm. Never had cold wet toes with these. Also this model has a smaller footprint than the Caribus or other Sorel winter boots and for a City Dweller like me, that is awesome. I also spend long periods of time in Northern Vermont and found these things to hold up quite well against any winter storm I encountered. I cannot attest to how long these will last since I haven't had them very long but based off previous pairs of Sorels I would guess at least 5 years up to 10.
I would highly recommend these if you live in a city and need something for when the bad weather hits, or if you live in a rural area where you want an everyday boot that will withstand the elements.

Verified Buyer

Reviewed by Dan the Man from New Jersey on Monday, October 13, 2014

When I received these boots from STP they far exceeded my expectations. They are incredibly well made and the fit was perfect. All ready for the predicted harsh winter!

Verified Buyer

Reviewed by Colorado tina from colorado on Wednesday, October 1, 2014

Very comfortable. Haven't had them in the mud, snow and cold yet, but looks like the will hold up.

Verified Buyer

Reviewed by Equip guy from Illinois on Friday, September 19, 2014

I opened the box and tried on my new boots. The fit for me was true to the size; I ordered them a little bigger (1/2 size bigger) so I could wear thicker socks and still have a little room and the size is perfect. I also like the looks of the waxed canvas which are supposed to be water 'Proof". Can't wait for the cold and snow to come!

Verified Buyer

Reviewed by snownerd from Juneau, AK on Thursday, June 12, 2014

The classic old Sorel is back; simple and warm, with the soft rubber ripple sole that gives the best traction on ice! Just as warm as the fancier newer models, for less.

Reviewed by Greg the cloner from Colorado on Monday, March 31, 2014

These *do* run large! I usually wear 12 but went down to 11 for these boots.

Reviewed by LauraB from Minnesota on Saturday, March 15, 2014

My husband ordered a 12 and usually wears an 11 or 11.5 in shoes. Wanted something a little bigger to help keep his feet warm. The boots are not a 12 - they run small. We would have returned them if we had bought them in a store.

Reviewed by Michael from Maryland on Monday, February 24, 2014

My feet stay warm and dry in slushy conditions. Lot of traction. Pull socks down a bit and need to order half size up.