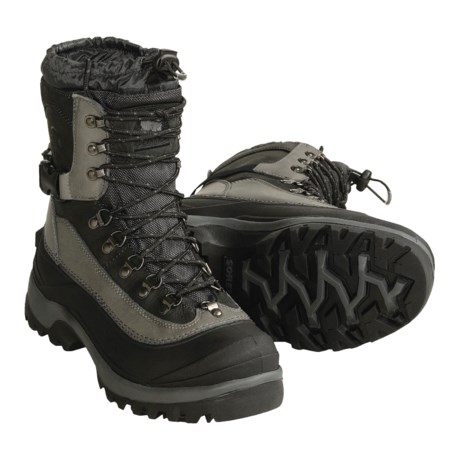 These are really amazing boots
Verified Buyer
Reviewed by Wicked Washer from Fairfax, VA on Tuesday, January 15, 2013
I bought 3 pairs of these because I am part owner of a spray-on, rinse-off bicycle cleaner company, and we run the wash area at bicycle races around the US. We bought these because we were going to Madison, Wisconsin, in early January and needed something reasonably priced, warm, and waterproof. I felt compelled to write my first review here because we were so happy with these.
The bike wash area at the race was unusually warm (upper 30's) for the first 2 days and there was about 4-8 inches of mud and water. We used pressure washers so they were constantly wet and muddy, but kept everything out. Later on, the temperature dropped and everything started to freeze. It got down to about 18 degrees and we were still OK. Our feet stayed warm in these the whole 5 days we were there.
They are great and I would buy them again in a second without hesitation. If I had to nitpick: they are a little difficult to get the laces tight, and to get on and off untli they break in a little, but it's really not that big of a deal to me. They don't breathe very well because of the amount of rubber on the outside, but they do a great job of keeping the water out.
The insulation did make my feet sweat when worn with a mid-weight SmartWool sock, but that was OK because they were still warm. We ordered a half-size larger and the fit was roomy, but not excessively loose.
Ice traction is not great, but mud and regular dirt, snow/etc. is great.
I also dropped a pallet on the top of my foot the first day and got a huge bruise; most of the insulation is around the toes and there is not a lot on the top of the foot, or a steel toe, so be careful if you drop stuff on your feet a lot.
At the end of each day, we hit them with a pressure washer to clean them and none of the water got in. They are super warm, and kept us dry, which is exactly what we were hoping.