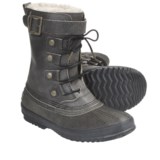 Closeouts. With a rugged look inspired by vintage motorcycle jackets, Sorel's 64 Reserve lined pac boots don't skimp on the warmth. The distressed leather upper has an ankle strap and metal hardware, with a removable wool felt inner boot that boasts a soft shearling lining.
Average Rating based on
18
reviews
4.000000
0
5
Verified Buyer

Reviewed by Bourgie Brooklyn from NYC on Wednesday, October 7, 2015

Well made, if still clunky winter boots. Didn't quite fit my foot and ankle, so I didn't keep them. They do seem warm and waterproof in the lower boots – however the wool inner sock only covers the sides of the boot and the tongue is not insulated, which invites leaks and snow.

Verified Buyer

Reviewed by david from Northeast on Monday, February 2, 2015

Really nice boots, have had Sorel's for a while and cant beat the value from Sierra Trading Post. A few people have commented about the shoelaces taking some time to get right, I think its pretty easy... unzip boot and loosen laces, put your foot in w/pants under boot, pull up zipper, tighten to liking, double-knot and you are all set.

enjoy.

Reviewed by Kaz from Boston on Wednesday, January 21, 2015

I bought these boots last year in May. I did not write review until after I started to wear them this winter. I thought these boots will be very warm rated -40F , but they are not. I'm very disappointed because I wear extra heavy wool socks 87% wool and my feet gets cold at 27 degrees F from the bottom of the outsole which is made of rubber. The company should made the mid sole of the leather and the outsole of the rubber. The leather will protect the feet from the cold. Not recommend these boots for cold weather.

Verified Buyer

Reviewed by Christopher Desler from New York on Wednesday, January 14, 2015

These Sorel boots are so warm and comfortable. Great for snow covered roads and sub-freezing temps! And they look great.

Reviewed by City trekker from Boston on Friday, February 21, 2014

I walk a half mile everyday to the train. My boots are perfect for the inner city trek. Stylish but functional these are great boots. Have to wear a thick sock for a good fit

Reviewed by BettyW from Boston on Saturday, January 25, 2014

As I previously noted, the top of the boot was really tight on my calves, verging on painful. This seemed due to the doubled-over top cuff, which is still inside the boot as worn - if it was high enough to b over the top of the boot it would probably be fine.

So as an experiment I acquired a cheap pair of thinner Sorel felt liners without a double-thick top cuff: replacing the original with those made these boots fit really well! I can now zip up without a struggle and the top straps can be buckled on existing holes. Now that I have made these boots function for me and know I am keeping them I am going to take a seam ripper to the top of the original liners to try unfolding the top cuff, as those liners are better quality.

Reviewed by BettyW from Boston on Friday, January 17, 2014

I read the other reviews, but figured I'd give these a try. I'm a Women's size 8-8.5, or European 38-39, so ordered these in Men's 7 after checking their actual dimensions on the Sorel site. The footbed fit is fine, with enough room for thicker socks than I had on at the office when they arrived. But as others have said, the shaft is oddly narrow. By fully loosening the laces I was able to zip up the sides. On one foot I could just buckle the top strap on the widest hole - on the other I will need to punch an additional hole. Definitely not going to fit pants/jeans legs inside.

My current plan is to try wearing them around the house for a bit to see if the shaft stretches at all. I've had a really hard time getting winter boots from Sierra that didn't have some foot-pain-causing construction or defect - these have come the closest to being good so far. FYI the measurement of my calf where the top of the boots come is 13 inches if you want to check yours before ordering.

Reviewed by Chi Town from Chicago on Thursday, January 16, 2014

I've only worn them a few times. They need a little breaking in before the side zipper can be employed. The leather pull tab ripped, because I pulled so hard the first time I put them on. After 3 or 4 wears, the zipper closes much easier. Can't beat the price.

Reviewed by carolyn w/cold feet from louisiana on Friday, January 3, 2014

I loved the look of the boot. The fit was another thing. I am a woman and not a big woman. When I slipped my unsocked foot into the boot there was no
way I could zip it up on my calf. I untied the strings and unbuckled the buckle; no luck. A larger size would have been too large in the foot. I am sure they would have been warm with the liner, but alas, I didn't have a chance to find out.

Reviewed by Rocklady from PA on Tuesday, December 31, 2013

Purchased for my son-in-law for Christmas. He really liked the fit and is looking forward to use them after our next storm.