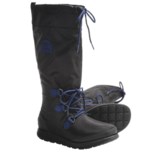 Closeouts. Inspired by arctic exploration footwear, Sorel's 88 pac boot offers serious protection for winter, with waterproof construction, warm felt liner and grippy outsole lugs.
Average Rating based on
78
reviews
4.064102
0
5
Reviewed by Searching for New Boots from New York on Friday, May 29, 2015

I love these boots for the winter. They really keep me insulated and fit over my jeans--I have large calves. Unfortunately, they are definitely not for rainy days as the water will seep in between the heel (rubber) bit and the upper material in the back of the boot. This will also happen if there's melted snow clinging to your boots. I bought three pairs and two pairs also leaked water from the top of the boot, in the toe area.

Verified Buyer

Reviewed by Anon from PA on Thursday, February 26, 2015

I got these after sending another pair of Sorels back at another website. These are warm, waterproof and comfortable. The sole is solid - so my foot doesn't slip around when I step through a foot of snow.

Reviewed by Kait from Chicago on Monday, March 31, 2014

The boot is bulky, and has very wide soles. If you want something cute, these aren't it.

Reviewed by Teva fan from Maine on Thursday, March 27, 2014

Ordered these hoping they would replace the beloved, but old pair of Sorel "Snowlion" boots. Not even close. I got the lovely purple color, so they do look nice, but fit small & snug. Must wear lightweight socks, which defeats the purpose of a winter pac boot. Very stiff: not very flexible to drive with, for example. I'm returning them. I'll re-stitch my Canadian-made snowlions!

Reviewed by Danskowearer from Upstate NY on Tuesday, March 11, 2014

I already own Sorel boots and really love them but they are much lower, so I hoped these would work for me. I ordered the same size in these as in my other Sorels but it was much too small so I returned them. Size up.

Reviewed by Jazmin from Chicago on Friday, February 21, 2014

I got these in purple. They are adorable, the colors are bright. They keep my feet warm and dry. Plus they are super comfortable. At first they seemed too stiff and it bothered the back of my ankle, but that wore off after a few days.

Reviewed by JCH from Keweenaw - Michigan's U.P. on Saturday, February 15, 2014

I really like these! I've wanted cute tall boots for years, but I have muscular (thick) calves, and could never find any that I could wear. Not the cute ones, anyway. So I took a chance and ordered - I avoid ordering footwear without trying on, because I have a narrow heel, and so many shoes slip and give me blisters that I have a hard time finding anything that fits. Anyway, I looked at all my other boots, and ordered the same size (10, which is bigger than my normal shoes). They felt stiff and ill-fitting (especially the heel), and kind of sloppy out of the box, but if I cinch down the lower lace, it holds in place fairly nicely. They fit the width of my foot pretty nicely, and all-around I have room for a fairly thick sock - I tried my thickest ones, and while they'd work, it was fairly snug. I don't notice the arch in them, so it must land in the right place.

I have to say, I was alarmed by the liner when I got these. It is like a thin, stiff piece of cardboard. I expected something thick like my Baffins or my husband's Sorels (although the photo does indicate the foot area is not clunky like it would have to be if it were well insulated), but this didn't look like it would be warm at all! And stiff and uncomfortable. I almost sent them back, but at the price I got them at, I decided to give them a try, as they'd be okay for late fall, early spring. I live in the UP of MI, and we currently have about 0F and 40" of snow on the ground. Anyway, they turned out to be fine in cold temps for driving to work, home from skiing, going to the store, etc. NOT a serious standing- around in the cold boot, and I don't think I'd use them snowshoeing, or walking long distances, as I have nice lace-up short boots which hold to my foot better - the lower lace helps keep the 88s to my foot, but still not really a running shoe fit. The height is nice, as often I have to wade through snow at least once a day, and because my pant legs fit inside (just), I haven't had the wet pant leg problem when I get to work every day. The liner is softening up, at least around the ankle, from flexing, so they are getting more comfortable. I like somebody's idea of a lace lock for the upper lace - I might do that, as I've been keeping that one tied so I don't have to mess with it each time. The liner does sometimes show at the top, but I think it would be easy to trim 1/4" off. Finally, I should mention that the liner is not replaceable. Before i ever wore them, I thought since I had room in them, I'd replace it with a Snowlion Liner. Alas, the liner is attached, so not only can't I put in a warmer one, but once these wear out, the boots will be done.

Reviewed by Nancy from Pennsylvania on Tuesday, February 11, 2014

I had a pair of these years ago and when I saw them being offered here I just had to have them again. These are awesome boots for snow, snow, snow! Also good for before and after skiing. Love the color - I purchased the purple - and they are true to size.

Reviewed by catrivera from kansas on Saturday, February 8, 2014

I was very happy for the first 4 or 5 times that I wore them. They are very warm but they quickly became very uncomfortable. They do not offer much support. I would not recommend them

Reviewed by Elizabeth from Dallas, Texas on Wednesday, February 5, 2014

I ordered these boots because I needed good warm waterproof boots. They arrived quickly and fit well. They are very cute boots and I loved the blue color. Unfortunately they have a heavy, felt insulation fabric that is stiff and sticks out of the top of the boots. They would be more attractive if the felt insulation fabric was shorter and fit inside the boots. I am sorry I had to return them but Sierra Trading was awesome with the return by making it fast and easy.