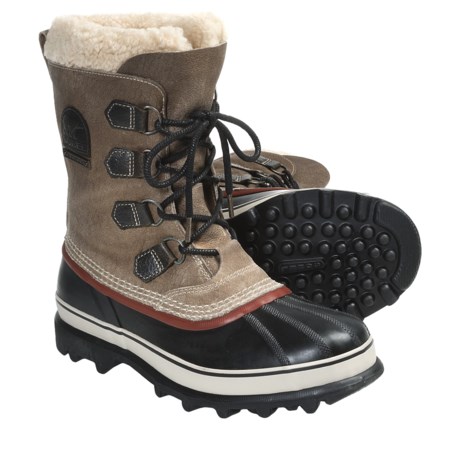 A fine looking boot!
Reviewed by Pete the Piper from British Columbia, Canada on Saturday, April 27, 2013
I am living in Vancouver and really, if you have seen our winters, there is not much use for these beautiful boots. But I used to live on the Prairies where these puppies could get a work-out for 5 months of the year. Let's just say for nostalgic reasons (and an extra huge discount from Sierra) I decided to purchase the above item. Who outside of Marrakesh owns camel hide footwear anyways. . . And top it off with Australian sheep skin. Come on, get serious! How could I not? I was going to use them as really warm (and sturdy) slippers. My wife has never accused me of being overly rational about things. Now, the boots arrived on time with a bunch of other stuff. All in perfect condition as always. They are beautiful! One minor issue: you can't get your feet into them. With shirts or jackets that wouldn't be an issue per say, but with boots it could be a deal breaker. Despite Sierra's perfect return policy I was not about to let go of these great looking boots. After some intense investigating, the problem turned out to be very simple. The designer forgot to stress the importance of the word 'STRETCH fabric' to the Chinese manufacturer. The sheep skin is connected in the front by a 2 inch wide piece of fabric which should stretch (a lot!) to allow one's foot to slide into the boot. Well, it ain't stretching. Therefore I resorted to use small scissors and removed said fabric, being careful not to damage the adjacent felt liner. Now the boot does not only look impressive, but I can also wear them on my feet. Which I have been - a lot - inside the house. Thanks Sierra for another excellent buying experience.
Most helpful positive reviews
Most helpful negative reviews
Similar items and more information in the following areas: