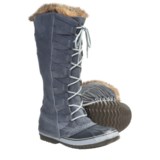 Closeouts. For top-of-the-line weather protection, comfort and style in one fabulous pair of boots, lace up Sorel's Cate of Alexandria boots. The waterproof suede upper features criss-cross details on the front and back, and a removable, warm felt liner boot with a chic faux-fur collar.
Average Rating based on
18
reviews
4.611111
0
5
Reviewed by Eden from Saranac Lake NY on Thursday, January 16, 2014

After moving to the North Country of New York, I quickly realized I'd need a pair of boots that would keep my feet warm below zero degrees. I spent a lot of time looking online, and found these at such a fantastic price that I couldn't pass them up. I'm so glad I didn't. They are everything the description claims, and I really like them. There isn't much of a heel, they're very high on the leg, and the calf opening is wide enough for me, something that concerned me before I got them. We still haven't seen negative temps since the boys arrived, but if the warmth I've felt in 10 degrees I'd Amy indication, these stylish, functional boots will handle the challenge.

Reviewed by Leann from Pennsylvania on Tuesday, January 7, 2014

Love these boots! First pair of winter boots I've bought in a very long time. They are super warm, love the waterproof sole and they're "cute to boot!" If these ever wear out I'd definitely buy another pair. Sizing is very accurate, mine fit perfectly!

Reviewed by Sara Snow from Minnesota on Monday, January 6, 2014

I received these boots last week, and not a moment too soon as we have headed into extreme cold temperatures! My feet have remained nice and toasty in these boots, and the best part is, the compliments keep on coming regarding the fashion aspect! I am so happy with this purchase and would even consider buying a second pair!

Reviewed by Leslie G. from PA. on Thursday, January 2, 2014

I love these boots. I have another pair of Sorels but these are dressier. They are a nice tall height, easy to lace up, sturdy but pretty, too. I bought these after reading that the less expensive Cate the Great boots lace holders were weak. These are nicely designed.

Reviewed by UpstateMom from New York on Saturday, December 28, 2013

I've been living in Upstate NY for 15 years now and these are the best snow boots I have ever had. They are not my first pair of SOREL, but these are the best by far! The leather is supple and feels like I've had them for years. They look great! Tons of compliments and they are SUPER warm. I can wear them with thin/normal socks in the winter to run around town no problem. If I were going hiking, I would put on a pair of fleece or wool and think nothing of spending all day in these!!

Important info on the SIZING!
I read every review I could on these. I normally wear a size 7 women, and I have somewhat wide feet (when I danced, the width of my ballet slippers was a D/E if that helps anyone). I am a loyal Dansko wearing lady as well, and always a size 37, which translates to 6.5-7 in US sizing. I ordered a size 6 in these boots and they fit perfectly!! They have plenty of room through the toe area, as SORELs are known for and the shaft can be loosened or tightened quite a bit. I really think SOREL runs large as a brand, plus they generally cut the ball of the foot area pretty generously, in my opinion.

All in all, these boots are worth every penny! Gorgeous & functional (the functional part outweighs the looks part once you become a mom and live int the country long enough)! I could not find a better price either!
Good luck!


Reviewed by shedra from Tennessee on Sunday, December 22, 2013

I wanted some boots that would keep my feet warm....we don't get really cold weather here much, but when we do, I want to have some good boots that will keep my feet warm and dry...I hope these are all they are advertisde to be. (good for minus 25 ...that's 25° below zero, and waterproof)

Reviewed by MN winter from Minnesota on Wednesday, December 18, 2013

These boots are getting lots of compliments here in Minnesota and I've only had them a few weeks. Mine are gray. They are slightly stiff at first but have loosened up after a few wearings. I went for 1/2 size down. They are slightly short in the toes compared to the looseness at the heel, but I like lots of toe wiggle room. Despite that, I'm still very happy with them!

Reviewed by Sara from Michigan on Wednesday, December 11, 2013

I have been looking for a pair of brown lace up boots for awhile. When I found these, I was excited that they are winter boots too. And they are definitely winter boots, they have a little bit of bulk to them, so I wouldn't recommend them as just everyday boots. However, they are cute enough to wear if desired. I've worn them to work once already. They are definitely waterproof, which is great.

Other reviews say order down since they don't come in half sizes. I agree. When I first got them, I was unsure since they were a little tight, but they loosened up a bit after some wear.

Biggest complaint is it is really easy for whatever pants you're wearing to get bunched up since the boots are a little tight around the ankle, even with the laces loosened and that can get uncomfortable.

Reviewed by Andy from New York on Monday, December 9, 2013

really nice boots but they do seem to run small. order a size bigger than what you normally wear, especially if you're wearing winter socks.

Reviewed by Adrienne from Grand Rapids on Monday, December 9, 2013

I have a small Sorel boot addiction. These don't help matters either. I'm super happy with these boots and keep them in my car for in the event of ever becoming stranded. Perfect amount of bulk, warmth and waterproofing. Comfortable and pretty. A little stiff but I am hoping that changes with wear.