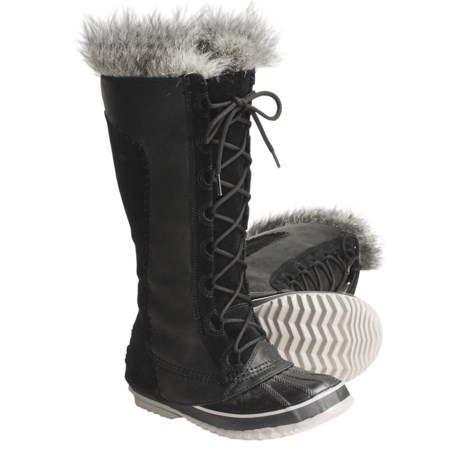 They seem to be wide enough around the calf...I tuck my jeans in....I don't think it would be a problem even for people with wide calves.

I wear a size 6, but the circumference is 14 inches and with the lace up, there is the option to widen the top, which I did.

I have wider calves and wear a 7, I was able to have my jeans tucked in my boots and still look good with the front lacing. my calves are about 16inch and there was room if you need it (think thick pants)

Plenty of room. I have Neanderthal calves, and they are soooo roomy. The leather is very soft and liner is warm. But when really cold the rubber shoe is cold. Not enough padding in bottom. Fit to size..Going to make my own wool socks. Great tread, perfect for running in snow.

I measured the boot at where the top lace starts with the laces as far out as they will go and they measure 20". The laces are very long and they lace all the way down to where the arch is on the foot so there is a lot of area to open up to conform to many calf/arch configurations. And since I bought them a couple of weeks ago, I have been wearing them in 2 degree weather all day inside and out side and my feet stay warm and very comfortable,.