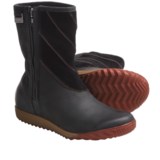 Closeouts. If you're looking for vintage flair, Sorel's Firenzy Breve II snow boots feature swooping suede across the vamp to feed your fervor for retro ski fashion. Cozy microfleece lining and a grippy, herringbone-treaded outsole add function to the fashion.
Average Rating based on
38
reviews
4.105263
0
5
Reviewed by Granjan from Hampstead NC on Monday, February 17, 2014

I ordered these in brown and they are very cute, better than the picture. The fit was perfect once I took out the hard cardboard forms inside. They are warm and waterproof, with a treaded sole that grips slippery surfaces. We usually don't get much snow and ice here, but we've had some this winter so these were good to have.

Reviewed by Ranger girl from Tahoe on Monday, January 27, 2014

These boots are not made for snow travel. They are not all warm and fuzzy on the inside. They are perfect for cold weather town walk abouts or working in a ceramic studio during the winter month (which is what I was looking for!) True/acurate fit for an average shoe size and very stylish. I love these boot! They are my new favorites

Reviewed by LO from Ohio on Monday, December 16, 2013

The zipper isn't great, they're pretty stiff and clunky, and they are NOT well-insulated at all... but they are waterproof and cute, so there's that. More of a spring rain boot than a true winter boot. That microfleece lining is the micro-miniest of micros... barely there.

Reviewed by Chel from Flg, AZ on Friday, December 6, 2013

These boots are very comfortable and super stylish. But, they are not as warm as I was hoping, or expecting, especially from Sorel. They are warmer than the average shoe, but not as warm as a Sorel winter boot could be. I have worn them in 4" of snow, and my feet stayed dry, but my toes got a bit cold. I did also replace the insole. Mostly because I require more arch support than any shoe comes with standard. Overall, I love the style of the boot, and they are warm enough, but if you are looking for a super-warm, rugged snow boot, this is not the one. But if you are looking for a warm, stylish boot for work, errands, and a cold night on the town, these are great for that!!

Reviewed by hlryc from washington on Monday, December 2, 2013

These boots were exactly as advertised. They are sturdy and well made. The rubber sole on the bottom is nice and flat, but can be a bit slippery in water. Happy I got them.

Reviewed by Melissa from Midland on Friday, November 29, 2013

Purchased these boots to wear to and from work. They are stylish enough to wear all day. I absolutely love how easy they are to pull on and off. Absolutely my favorite pair of boots. You can never go wrong with Sorel.

Reviewed by Adventurer from Redondo Beach, CA on Friday, November 29, 2013

I really wanted these boots, and tried to be cautious about sizing. Others who reviewed these boots said they were also a 7 1/2 - 8, they sized down to a 7, and said it fit them perfectly. The size 8 was sold out, so I ordered the 7. I have narrow feet, but unfortunately they were too small... toes felt squished. Boots were good quality though. Not sure if they would've been warm enough for my Alaskan adventures in 8 degree weather. I was at a loss after I returned them. I paid $20.95 for 2-day air shipping + this website will charge you $6.95 for their return shipping fee. There are other websites that offer free return shipping.

Reviewed by Amom22 from Huntsville, AL on Saturday, November 16, 2013

Comfortable right out of the box, and getting lots of positive comments with every wearing! The outside zipper is a little unusual, and has a very narrow connected interior placket, so it does not give much additional room to get the boots on and off. Even so, it is not a big struggle. It is difficult to tell whether the little metal tab at the top of the boot, or the zipper is jingling, but if I am walking fast I feel a bit like the cat with the bell.
Even so, I love these boots, and they have quickly become my go to wet, winter boots.

Reviewed by hereandthere from Colorado on Monday, October 21, 2013

I am an 8.5, so I ordered a 9 because half sizes aren't an option. They were too big everywhere, my heal slipped up with each step and it was a little too roomy in the toe box and width. However, I don't think an 8 would have fit in length. You might be able to get away with wearing a heavy sock if you are a half size. The outside zipper was strange- it only opened up about an inch, making the boot a little harder to get on. Also, the line between the suede and the upper boot bowed inward into my ankle. It was uncomfortable, and just an odd fit. I returned them.

Reviewed by Jackieee from Richmond, VA on Sunday, October 13, 2013

Bought these boots before a 3 week trip to Europe in the winter/spring months where I knew I'd be facing wet weather AND snow. Felt great as soon as I put them on! I'm still giving them 5 stars even though during my trip I experienced a little rubbing on one of my achilles that was pretty painful, but I bought a cushion that stopped it. Kept my feet dry and warm and comfy for the whole trip! Threw them on yesterday during a music festival where I walked around in inches of water and mud for nearly 4 hours and while my feet did get wet by the end, they were definitely dry for at least 2 of them. And after, my feet were only wet, not muddy!

They are styling enough that you don't look ridiculous walking through museums or around town, and people are usually pleasantly surprised when they find out they are not UGGs! I am still tempted to buy another pair before they get discontinued. You won't regret buying these!