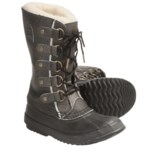 Closeouts. You don't have to leave your refined taste at home when the days get frigid and snow piles up outside your door -- just slip into Sorel's Joan of Arctic Reserve NM winter pac boots. The removable InnerBoot has plush shearling lining, and the leather upper is completely waterproof.
Average Rating based on
10
reviews
4.500000
0
5
Reviewed by liz from Seattle on Monday, October 27, 2014

I ordered these specifically for Snow-mobile riding and they are perfect. Water-proof, insulated, and warm, but do not make my feet sweat. Smart wool socks from STP, along with these boots, keep my feet warm and happy. I wore them on a 2 mile hike and had no rubbing issues. I have high arches and a wider forefoot and they were not too tight, or too lose. I have a big toe/metatarsal issue, and these do not make my foot hurt after wearing for 4-6 hours.

Reviewed by Schimiggy from Seattle wa on Saturday, February 22, 2014

I purchased these for the winter season but did not seen to use them much and ended up wearing my Uggs instead. These would be great for snow trips or hiking through rough terrain. The shoes are very comfortable and keep my feet undoubtedly warm. If you go outdoors often and need warm and waterproof boots, these are the ones for you! I did not experience any foot pain and the shoe fit me well. I ordered my regular shoe size (7).

Reviewed by wished the shoes fit from Colorado on Saturday, February 15, 2014

Like the looks, height and warmth, but the back is a bit too stiff for longer walks and rubs my heel - will hopefully get better overtime, but since I cannot use them for long walks I had hoped for an easier in/out like my kids' Sorel Caribou. I think for my small size the Youth Caribou are a better deal if you don't need the cuter look. I am normally a size 5.5-6.5, needed the 6.5 for these boots.

Reviewed by Tammyhiker from WI on Wednesday, February 12, 2014

I ordered my usual size (5) and the length of the boot was perfect. I have a high volume foot so the part of the boot that goes across the top of the foot was too tight. Someone who has a more narrow, average foot will fit this boot perfectly. It is very stiff when you put them on but the leather should loosen up with wear. Otherwise it is a well made boot and appears that it will be warm.

Reviewed by Summer Girl from Maryland on Thursday, February 6, 2014

These boots have been perfect for this snow-filled and ice-filled winter. At the time, the only size in stock was a half-size smaller than my typical shoe size. I ordered them anyway. Although the boots are snug, they are still comfortable and keep my feet warm. One of the boots does rub around my ankle, but that may be because they are still so new. The Joan of Arctic Reserve boot feels far less bulky than the original Joan of Arctic boot I tried. Overall, a great boot for those unbearable winter months.

Reviewed by Kristan from Chicago on Monday, January 27, 2014

These boots aren't exactly a chic, wear everyday with every outfit type of boot, but they aren't hideous and are very functional. The colour is good - more of a washed grey than a black. They are clunkier and wider than I had anticipated them to be.

HOWEVER, they do their jobs, and I've worn them more or less everyday since I've purchased them, and am so happy to have them. I have poor circulation in my extremities, and these boots keep my toes warm in Chicago's frigid polar vortex even without thick wool socks. I also love not having to worry about sloshing through street corner puddles on my walk to work. And, I receive compliments on them daily, so they do have some style.

My only complaint is they took about a week and a half of continuous wear to break in. The leather upper and rubber footbed are very stiff, making it difficult to walk in at first. They rubbed away the skin on the back of my ankles and lightly bruised my shins (probably because I had them laced too tight to avoid rubbing on my heel). That being said, now that they are broken in, they are great and very comfortable.

Reviewed by need warm feet from moving to North Dakota on Thursday, December 26, 2013

The boots are very cute, little tough to get on to start with but I am sure they will break in just fine. Very warm!

Reviewed by Abby R. from St. Paul, MN on Sunday, December 8, 2013

These boots are incredibly warm (wore them in -27 wind chill yesterday with NO cold toes!) and very cute. My only objection (why they're a 4 instead of a 5) is that they are a little stiff to walk in--it feels like I'm wearing snowboard boots. This will likely improve with time, as I've only worn them for about a week, but the stiffness means they rub on the back of my heel and wear down socks/give a sore, pre-blister feeling. Other than that, they're pretty comfy, quite warm, aren't overly huge or heavy and are pretty darn cute.

Reviewed by Erin from Northern Idaho on Wednesday, November 27, 2013

Admittedly these are not hiking or hunting boots, however, I wore these deer hunting in the snow in November in Northern Idaho (walked about 12 miles). My feet stayed dry, warm, I wasn't slipping, but I got some serious rubbing on my ankles and shin area (outer edges and back). These performed really well when put to the test and I can overlook the rubbing as they are not meant to hike long distances in. I also wear them around town frequently and, again, warm and dry feet all day. A bit on the spendy side, but I got sick of having cold feet even though I was wearing snow boots! I also really like the height- no snow gets in the tops which is awesome! So far these boots have been a great investment. I did notice that around the bottom seam where the rubber part meets the upper portion the color is wearing off in spots- only been wearing them a week. I am pretty rough on my shoes though- not an around-the-town only person.

Reviewed by Rosemary from Maryland on Saturday, August 31, 2013

We ordered a size too small but my daughter was leaving for college in Canada in three days. I called customer service and they sent out the next size up by second day air, shipped the original boots back for free, and applied an extra discount that I had received by email so the two day shipping was covered and I was left with a balance in my account for next time. I love this company. The boots are wonderful too...