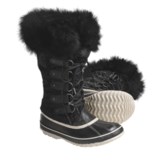 Closeouts. You don't have to leave your refined taste at home when the days get frigid and snow piles up outside your door -- just slip into the gorgeous Sorel Joan of Arctic Reserve winter pac boots. The removable InnerBoot has plush shearling lining, and the waterproof leather upper features swarovski crystal details.
Average Rating based on
52
reviews
4.288461
0
5
Verified Buyer

Reviewed by Jubilee from North Carolina on Saturday, April 19, 2014

These boots are absolutely stunning. Good job Sorel!

Reviewed by texasdivegirl from Texas on Thursday, March 6, 2014

Love these boots! Very warm and fit is true to size. Very good quality. Love Sierra Trading and their fast shipping!

Reviewed by Navynurse from Nantucket Island on Thursday, February 20, 2014

Awesome boot, but look out: the color "champaign" really means pink camo colored fur when one opens the box! And, there are rhindstones faceting each leather grommet! No woman, who would buy this type of serious outdoor boot, is going to be the rindstone type of woman. Don't know what went through the Sorel executives' minds when they let this boot out on the line. Unfortunately, I needed boots so badly by the time these were available in my size -- looking for plain beige fur, size 8 or 9, that I just had to wear them, like the color or NOT! If I could take them back, I would. Would select a more subdued Sorel boot. Spent three days in 20" snow at 14-degrees F and these boots are PERFECTLY WATER PROOF! COLD PROOF WITH ONLY ONE PAIR OF SOX. TOP QUALITY CONSTRUCTION. Well-worth the $300.00 I paid. But this pink cammo with rhindstones is killing me with embarrassment every time I wear them. They hurt to look at, but feel WONDERFUL on the feet! You could live in these boots they're so comfortable. Please contact me for an exchange if you would be so good to do so, like LLBean. Have never shopped with Sorel before. Thanks! -- Navynurse1994@hotmail.com

Reviewed by frankie from Colorado on Friday, February 14, 2014

This a functional and stylish pair of boots!! I thought to order a 1/2 size bigger for socks, but they are slightly big. So they are true to size, but still keeping them!

Reviewed by Kathy Morris from Utah on Friday, February 14, 2014

The best outdoor boots. Had a pair for the last 30 years. This are very pretty.

Reviewed by Nettie from Massachusetts on Sunday, January 19, 2014

Beautiful boots! Unfortunately they were too small I should have ordered a size up from my shoe size. Excellent transaction with Sierra Trading Post would purchase from company again!

Reviewed by Cindy from Co from Colorado on Wednesday, January 15, 2014

These are very goddess-like boots... maybe a bit too fluffy n pink at first glance (I'm not a girly girl) , but they will tone down with a bit of
wear I'm sure.
I love the fit... and am excited how warm they will keep my feet , which is the real reason I bought these. I had seen them on someone
a few weeks back (quite worn so not as white/fluffy) and I commented on the crystals and leather uppers. Can't wait for mine to
have that wornlook.

Reviewed by Weissofcourse from Connecticut on Wednesday, January 8, 2014

Waterproof, warm and stylish - with that description, what's not to love? I went ahead and purchased the Champagne color. The boots were warm, true to size and comfortable. They were also hotter than hot pink - not a trace of elegant champagne. Looks like the cow lost the battle with a vivid pink highlighter pen on this pair, so I'll be sending them back. Too bad, as they seemed like a very well-made boot.

Reviewed by Lauramah from St Paul, MN on Thursday, January 2, 2014

Love the colors! So warm and functional.

Reviewed by Sophie's Mom from Houston, TX on Thursday, December 19, 2013

These are excellent boots, very comfortable to walk in despite being snow boots. The fit is perfect. They are also eye-catching with glittering crystals. They kept my feet very warm in 7 degree snowy weather (yes, we have snow in Texas!).