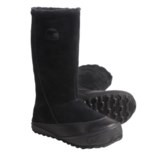 Closeouts. Sorel's MacKenzie Slip tall boots are perfect for everyday wear during cold winter weather. They feature water-resistant leather and a soft fleece lining, in a stylish, versatile and functional design.
Average Rating based on
52
reviews
4.230769
0
5
Reviewed by Boot Lover from Indiana on Saturday, July 19, 2014

I love these boots! I wore them ALL winter (2013-2014) when the bitter cold and snow really hit Indiana. My feet were never cold and it felt like I was wearing tennis shoes. I used to have a pair of UGGs and I have to admit, the UGGs fail in comparison to these boots. The simple design makes them easy to wear with anything and I received a pile of compliments.

My only concern with these boots is the sturdiness. I seriously wore them constantly on the weekends and any casual day at work, the seam is beginning to show wear behind the toes at the top of the boot, where is creases when you walk. So far there is no hole and my feet have not been wet, but I am watching it in season. For the price; however, I would buy a new pair every year. So very comfortable.

Reviewed by Anna from Wyoming on Wednesday, March 19, 2014

I wear size 6 and I ordered size 6 but overall size was just too big and looked and felt so bulky when I wear them. I really like the deign though, I returned them.

Reviewed by Mare from NewYork on Tuesday, February 4, 2014

I love these boots!! They are perfect to sit by the door and throw on quick to walk the puppy!!
Keep my toes warm and so far they are " snow proof"!! Yay

Reviewed by LittleSea from Colorado on Thursday, January 30, 2014

Wore these boots for the first time in Keystone, Colorado all weekend. Super comfortable, really warm & light weight.
I did wear them with ski socks since my toes get really cold & they are a little big without socks. I love the treads & felt
really comfortable walking over ice with them on. So happy I made the purchase!

Reviewed by malie lalchan from queens ny on Sunday, January 26, 2014

bought these boots for my daughter, they arrive and was beautiful needless to say she loved them, Unfortunately it was very difficult to get them on. My daughter said she could not compensate the beauty for difficulty of getting them on and off. Sorry have to return them. I would of kept it, if it wasn't for that.

Reviewed by sizrwizrd from Panama City, FL on Tuesday, January 21, 2014

These boots are comfortable and warm and will probably fill the bill for my upcoming trip to Chicago. They're easy to slip on and feel like I'm wearing slippers! They also fit my regular size 6 foot perfectly.

Reviewed by HEFE from Washington State on Tuesday, December 31, 2013

My wife loves these. Very warm and waterproof.

Reviewed by Betty from Colorado on Monday, November 18, 2013

I live in a snowy climate and I wear these boots almost every day. They are very warm, with or without socks, and are true to size (for me, at least). Good grips on the sole too.

Reviewed by xc ski mom from Alaska on Friday, July 26, 2013

I wrote a review earlier and wanted to comment on traction-these are awesome! I bought some for my daughter as well and am sad they are not available anymore in our sizes. An Ugg with traction... I believe the boot fits true to size. Not much support but I made it through the XC ski season-watching races and après skiing.

Reviewed by Suzette the Rocker from So. Cal. on Monday, March 4, 2013

I am a 51 yr old woman in an alternative rock band and I also teach a martial fitness class. With that in mind, the style and look of the boot suits me. I got the brown boot with the orange sole. It's super sassy and unique, not like the other brand, which I'll give the nickname, Fuggs, that is way over priced, that every girl and her sister wears. As far as comfort, one review said it has no arch, but it definitely does, maybe not a major arch, but more of an arch than Fuggs which has no arch at all. I am a true size 7. Off all the shoes I've bought on line, size 7 has always fit perfectly with the exception of a pair of Japanese trail runners that I've bought, but in that case, every single review said they ran small. However with the Sorel, I can wear them barefoot or with medium thick socks, but not thick socks. Two disappointments are: 1) the fleece is packed tight, not fluffed and soft like the Fuggs. 2) Due to the rubber that covers the toes, the boot does not breath like the Fugg style boot so my foot gets clammy after a while, so I take them off for a minute and then put them back on, and I'm okay. But hey, at least you can wear them in the wet weather. Last of all, I live in So. California and I was a little worried that the boot would be super hot (temperature wise), but I can even wear them in 60 degree weather in March with denim shorts and a T-shirt n hoodie, or flannel shirt and my feet are not boiling, BUT, my feet are always freezing cold during the winter months which is why I bought the boot in the first place. Perhaps the fluffy fleece doesn't work with this boot due to the rubber. With the tight fleece there is more air circulation which you probably need to compensate waterproof leather and rubber.