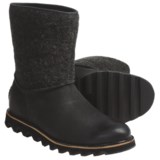 Closeouts. Inspired by the Mad Men of the 50s, Sorel's Mad Slip boots seamlessly blend vintage elements with modern functionality. The burnished leather upper features a felt shaft and plush pile lining.
Average Rating based on
42
reviews
3.714285
0
5
Verified Buyer

Reviewed by JimmyJ from Jackson Hole on Monday, February 16, 2015

Super Comfortable, Great on ice, Very Warm.

Verified Buyer

Reviewed by Jim B from Philadelphia on Thursday, January 29, 2015

A little tight at the ankle (could just be my feet), great look with the felt and distressed leather. Warm and comfortable.

Verified Buyer

Reviewed by Scooter from Missouri on Friday, January 23, 2015

Overall quality of the build and materials is exceptional, but they are a bear to get on and off. There is plenty of room in the toe box once on, though. I normally wear an 11.5 but bought an 11, as they run about a half size big.

Verified Buyer

Reviewed by Golden, Out! from NWA on Sunday, January 18, 2015

Nice! Very comfortable and well made. Good buy.

Verified Buyer

Reviewed by bob from east coast on Wednesday, January 14, 2015

good looking boot

Verified Buyer

Reviewed by Momma K's Cafe from NC on Saturday, December 20, 2014

Bought to wear for morning carpool commute. Very comfortable, warm. True to size, even with an extra foot bed support.

Verified Buyer

Reviewed by Steve from Michigan on Saturday, December 13, 2014

That are a really light weight and good looking winter boot. I believe they will be best for casual wear, since I don't think they would hold up to any kind of heavy work use. But for a decent looking boot for around town, and a warm one at that, they seem really nice.

Verified Buyer

Reviewed by Flyfisherman from Oregon on Saturday, November 29, 2014

I've been wearing these boots for a week now. Very comfortable. Size was perfect. Very warm. Elegant house slippers, like Uggs, but dressy enough to wear to church in the cold weather. I also wore them to a friend's house for Thanksgiving.

Reviewed by Woodland Wife from PA on Tuesday, November 25, 2014

These are surprisingly lightweight! They are even lighter then athletic shoes, yet the are warm and cushiony. The black color is very nice. I'd say they run a tad big. My son normally wears a 12, but I got 11.5 because that's all that was left in black. They're comfy, but he probably could have worn an 11. Very stylish ... easy on and off.

Reviewed by Garv from Iowa on Thursday, November 20, 2014

I hate these boots! Wish I had never ordered them.They are soooooo hard to put on,and after the battle to get them on is over, my feet swim in them.I did order them 1/2 size larger than normal in hopes of using 2 pairs of socks when it's below 0.Forget that!. I can hardly get them on with 1 sock on each foot. Buying these boots was a HUGE mistake.

Reviewed by Chuck from State College, PA on Monday, November 17, 2014

I deliberated for a while about what size to buy. I didn't want to over emphasize the advice to buy a size lower when there seemed to be a vocal population saying the boots were true to size. This was not a good idea. The boots came today and they are exactly a size too large on my 11.5 sized feet, I should have gone for the 10.5!

I'll return them for the lower size because I think they're going to be very nice. I think 4/5 is fair. They feel warm and seem very durable. When you put your jean legs over the top they're quite handsome. The tops look a little lazy though, not a fashion product.

Verified Buyer

Reviewed by JR - Skier from Colorado on Wednesday, November 12, 2014

Great boots for snow and cold. Sized correctly, don't buy larger size.

Reviewed by Edward Razor from Colorado on Tuesday, November 11, 2014

These are great. I think they are true to size, but the top cuff may be small for bigger folks. I am a skinny dude My feet slip in and out easily, giving them a sense of wear slippers in the snow. I think these fit smaller people better, for us they are luxurious.

Reviewed by BeautifulDreamer from Colorado on Saturday, November 8, 2014

I am a woman with feet size 11. I generally wear men's size 81/2. The 81/2 in this boot fits well. The heel is well fitting for me, it might be tight for a man with wide heels. The toe box is roomy. Perhaps the problems of size have been solved.

Verified Buyer

Reviewed by Claywhiz from Minneapolis on Monday, October 20, 2014

Well made, good soles. comfortable with plenty of - but not too much - room. Size is good.

Reviewed by PJTramdack from New Castle, PA on Friday, October 3, 2014

I had to write a review after reading the other comments. I got these a few days ago (late Sept 2014). I treated the with Nikwax water repellant and started wearing them around the house. The fleece lining is luxurious, the leather is soft, the boots appear extremely well made and the fit is almost perfect. Reading the comments I see that some people report that one boot was bigger than the other. Inside the top of each boot there is a label that gives the size in about four standards. Darned if the right boot isn't a 12, while the left is a 13. I take about a true 12.5 and I have bunions, requiring a wide fit so I order 13 normally and 13 does well. Also, my right foot is about .25" LONGER than my left, while on these boots the left is about .25" LONGER than the right. Notwithstanding, the boots fit very nicely with light sox or, as I will be wearing them most of the time, without any sox.

My idea is they had some 13s that were running a bit small and some 12s that were running closer to 12.5, so they combined them and sold them as 13s, which, works for me. I suggest that the larger sizes will be fine and most people won't notice the size difference. Maybe it will be more noticeable in the small sizes.

I would order up and take your chances. These are really fantastic boots, and the tops do stretch out in a few days of wearing. Try them and if they don't work for you, take advantage of Sierra's fabulous return policy.

Verified Buyer

Reviewed by Shoe buyer from New York on Thursday, September 18, 2014

I saw a few reviews about sizing up and down. Decided to bite the bullet and get my actual size 14. They fit great and I was wearing tube socks. Delivery was quick and had no troubles whatsoever during any part of the process. I enjoyed the shoe, the site, the deal I received and the humor that came along with it.

Verified Buyer

Reviewed by Red Hooklyn from New York on Saturday, August 23, 2014

Here's the trouble with these. It's not the product, per se, rather the instructions by Sierra Trading Post to buy a whole size larger because these run small. I would say buy a half size. I ordered a whole size as recommended by Sierra Trading Post and they were too big.

As for the product, the cuff is not very wide and has no elasticity to fit over certain pants nicely. The materials are fantastic though, so these boots are what you make of them if you know what you're getting into.

Verified Buyer

Reviewed by Legin from Florida on Friday, August 15, 2014

Comfy, warm, cosy Winter boot. Solidly built to withstand the rigours of a Florida Winter

Verified Buyer

Reviewed by Cookie Athletic trainer from washington on Thursday, August 14, 2014

I really liked these boots. they were for me and I can wear a mens 7 but I couldn't get these on. very narrow entrance and wont work if you have a high arch I guess. I wear an 8.5 or 9 in womens. but they are very nice boots and I would have kept them IF I could get them on....

Reviewed by Jim from Colorado on Thursday, July 31, 2014

I wear a size 7-7.5. I ordered an 8. They at least 1 size too big. Too bad, they seem like nice boots.

Reviewed by AJ from Michigan on Monday, March 24, 2014

This boot was easy to take on and off and is very comfortable for wearing around town. It is warm enough for brief periods of time in below freezing temperatures. The sole is comfortable and grips the ground well. I wear a size 14–15M and the size 15 fit exactly as expected- a touch large so I could fit in a thick winter sock. I have had no problem sliding the boot on and off and the right and left boots are the same size unlike in other reviews. I treated the leather with Sno-Seal and had dry feet after many exposures to slush from melting snow plus the salt from the sidewalks doesn't stick to the treated leather. I look forward to many good years from these quality boots.

Reviewed by brad brad from Roaring fork valley on Friday, March 7, 2014

Good looking, slip on. Just got them still bonding, but really like them. Odd sizing, they say to go one size up which I do some time's in different manufactures , this time I was swimming in the 13. The 12 could be a titch bigger, so go figure.

Reviewed by Jonathan Miller from Chicago on Sunday, March 2, 2014

I ordered these in an 11 since a whole size up was recommended. They were way too big, so I exchanged for a 10.5 Those were also too big! The 10's are in transit, and I should have them in a few days.

Reviewed by Bri D from Chicago on Thursday, February 27, 2014

What a great boot! This boot is true to size. Only hiccup is that it is hard to get on for the first couple of wears, but after that it slips on rather easily! This boot has held up very well through one extremely rough Chicago winter. I am very pleased with the boot for the price. Surprisingly warm for such a non bulky winter boot.

Reviewed by Motrd from Pennsylvania on Thursday, February 20, 2014

I searched countless hours for a pair of winter boots; they had to be casual enough to wear to the office (didn't want to deal with changing, etc.), have good tread, were warm, and something that didn't just look like any other snow boot. I came across the Sorel Mad Slip, and found exactly what I was looking for. I went with the 'wild dove' color, which looks classy. As far as size goes, I typically wear a 10.5-11, based on some other reviews and the fact that these are slip ons, I opted to go with an 11. These still have some room to spare (which would be good for some thick warm socks when needed). I've had no issue getting my feet into them as some have, they glide right on for me. They're surprisingly comfortable, and so far have kept my feet warm and dry on those walks to the car through the snow and ice. Would definitely recommend this boot. The experience with Sierra Trading Post was my first, and it was a good one especially with the great deal I found on these bad boys.

Reviewed by Icenreaker guy from Kitchener, Ontario on Monday, February 17, 2014

I can sympathize with a lot of the complaints in other reviews, but I like these quite a bit. My foot is a very wide size 8 with a very high arch, so that I always buy shoes sized 8-1/2 (and very occasionally a 9). Based on other reviews I got the size 9, and they're a pretty fair fit. They ARE a chore to slip on with fat socks or swollen feet, but they work for me. The style is nice, but I couldn't fit my pant legs into the boot - so they hang outside... not ideal for deep snow & slush. I've worn them in really cold weather (-18C / 0F) and they're perfectly warm - they're also very light and have a nice aggressive tread.

So despite all the cons they're pretty good boots for the money, and I'm happy to keep these for city wear. The 'burnished leather upper', by the way, is a beautiful soft leather.

Reviewed by Minitrail from Ohio on Wednesday, February 12, 2014

Bought a size larger than my dad actually wears as suggested still too small. Returning them. They do look good.

Reviewed by WaterGirl from Florida on Wednesday, February 12, 2014

I bought these for my husband to wear on a business trip while in Scandanavia. Hoping for it to work walking the snowy streets and still be ok at the office. He wears a 10 1/2 usually and I bought the 11, his feet are average width. At first, he could not even come close to getting his foot in the shoe - but with a lot of tugging and pulling, he finally got it in and once on, they were a good fit. We were going to send them back, but after trying them on and off for several times, they stretched out a bit and he decided to keep them althought he can't wear thick socks with them, they seem to be warm enough not to have to. My son who wears about a 10 shoe, but has wide feet, couldn't even begin to get his foot in it. So I would not recommend these for anyone with wide feet and if you are in doubt- size up. I would give it 3 1/2 stars if I could (for the difficulty in getting them on) - it would be nice if there was a heel tab to help pull the shoes on.

Reviewed by merelyfaith from milwaukee on Tuesday, February 4, 2014

Ordered these in size 15 for gifting. He was thrilled; took one out of the box and slipped it right on; it was prefect! Then he tried the other only to find it too small. He held them up together and it was obvious that they were not the same size despite the label. So, we returned them with a note asking for replacements that were the both the same size as the left boot. Got the new ones. They were both the same size, but neither fit.

He is most disappointed. I'd try again, but return shipping adds up.