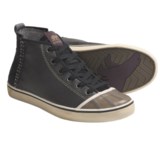 Closeouts. Add a touch of old-school style to your collection with Sorel Sentry Mid Canvas sneakers. The waxed canvas upper is joined by a suede heel panel and rubber toe, and a cushioned insole keeps you moving comfortably all day long.
Average Rating based on
14
reviews
4.285714
0
5
Reviewed by honeybee from NY state on Monday, May 11, 2015

I reviewed these when they arrived and were too big (size 6). Instead of returning I sent them off to a daughter who usually wears a 6.5-7 and they were perfect for her. She texted me a picture and they do look cute on her, so I wanted to add this to my earlier review.

Reviewed by honeybee from NY state on Thursday, April 30, 2015

These shoes are definitely mis–sized. The pair I received is supposed to be a US size 6. But the box said UK 4.5 and EU 37 which is a 6.5 or even a 7. I wear a 6 in sneakers and boots and these were at least a 7– they were more than an inch long in the toe, wide throughout, slipped in the heel and flopped around on my feet even with Smartwool socks. They do look well constructed but they were so huge and clownish that I have no idea how they actually look on the foot. One other reviewer mentioned the clownish appearance making me wonder if these might not be suited to petite feet or women. Too bad– the picture looks really cute.

Verified Buyer

Reviewed by BahamaWynters from Oregon on Sunday, August 10, 2014

Emboldened by other reviews I bought a full size larger for thick winter socks. Found my cotton socks nearly filled the space.

You have to love a well made shoe, casual or dressy; a well made shoe is like manna from Heaven.

Some reviewers write they buy extra pairs yet I believe when these are shattered (which will take awhile unless unseen drastic occurrences prevail), Sorel Sentry will have designed and made another classic Canvas sneaker which will be just as enjoyable to look at and wear.


Verified Buyer

Reviewed by merelyfaith from milwaukee on Monday, June 30, 2014

Sent to granddaughter as a gift. She loves them.

Reviewed by Lucy from Colorado on Monday, March 24, 2014

I'm pleased with these. They fit true to size, IMO. I'm usually between a 6.5-7, got a 6.5 in these, and they're fine unless I want to wear thick socks. I wear a 6.5 in the Sentry tall boots, and a 7.5 in my Joan of Arctics (room for heavy socks). They do not have any support, much like Converse or similar sneakers, but the sole is pretty stiff.

I just wish they were a little taller--they aren't a high top, even though they kind of look like it in the pic. They're chukka height.

Reviewed by KT from Cincinnati on Monday, March 17, 2014

I saw somebody wearing these and had to get some too. They are very comfortable and roomy, and keep my feet warm without being boots. They aren't as flexible as other canvas sneakers, though, and they are much wider-looking. I like how they look with leg warmers scrunched down around the top of the shoe, or thick socks that can be scrunched in the same way.

Reviewed by Mom from Oklahoma on Tuesday, January 14, 2014

I bought these shoes as a request from my daughter. And she loves them.
The quality is like all of our other purchases TOP NOTCH!

Reviewed by zaftigfieldnaturalist from texas/idaho on Sunday, December 29, 2013

By far, the best version of a hi-top sneaker I've ever had. Perfect straight out of the box - wore them to work 1st thing in Thorlo hiking socks, 8 hr shift on wooden & concrete floors, no orthotic. Despite a recently sprained ankle, & arthritis, I was happy as a backward clam all day, & kept them on 'til bedtime. Cute & funky, with a well thought-out fit. If you have low-volume, rectangular, spatula feet, these would make an excellent alternative to pointy Cons, & the support is 100% better. Very similar to the old-style PF Flyers, but updated & better. Plenty of meat in this shoe between you, & whatever might be under you. Padded tongue helps it stay in place, & comfortable, of course. I have worn these every day since the UPS truck dropped'em off. Hoping these are available for a while yet (sorry, STP) so I can get another pair or 2 as soon as I have the scratch! May still get the lo-top version. All in all, highly pleased with these nicely detailed shoes. 0 complaints. They've even done okay in ice & snow - love that waxed cotton!

Reviewed by Patty the postal worker from Oklahoma City on Wednesday, November 13, 2013

I love converse shoes, I wear them all the time. I got giddy when I saw these, I thought they would be like my converse but made better for the weather. None of that matters when you put them on and you look like you are wearing clown shoes.

Reviewed by whitebirch from wisconsin on Monday, October 14, 2013

These shoes are a great buy. They have a contemporary look and are light on the feet. When I got them dirty on a rainy day, I removed the insoles and washed the shoes and insoles under a faucet. They were easy to clean (especially the rubber toes and soles) and they looked and fit "like new" after they dried. The workmanship is high quality. I wish they were available in a range of colors!