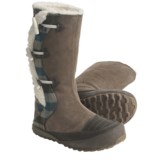 Closeouts. The Inuit-inspired styling and dependable weather protection of Sorel's Suka II boots make them the perfect go-to kicks for cold-weather wear. The waterproof leather upper shields you from snowdrifts and the plush faux-shearling fleece lining keeps you nice and cozy.
Average Rating based on
96
reviews
4.479166
0
5
Reviewed by Lazuli from Chicagoland on Friday, February 14, 2014

These boots are great! They are warm and cozy and cute besides. I tried both the "mud" color and the "tan" color and liked the latter better, which is good because the "tan" color came in my size, but not the other one. It runs true to size. They do fit a bit like rain boots, with some heel slippage, but that's ok. They slip on quite easily over boots, which is great for a mom trying to get out of the house. They have pretty good traction on the ice, and are fine in basic snow/slush. I haven't tried them for extensive snow play, but they work just fine for stepping out of the car into a few inches of snow or slush.

Reviewed by boots from michigan on Sunday, February 9, 2014

The best boot I've ever owned. The day after receiving them in the mail I trekked through calf high snow and I stayed dry and warm. Very comfortable. I love them, and I've already received many complients

Reviewed by outdoorgirl from Colorado on Thursday, February 6, 2014

I will return these for a different pair that fits better. I wear a 7 and thesea re too tight. Too bad I really like them

Reviewed by Anna from Michigan on Tuesday, January 21, 2014

I have larger calf (15inches) and finding tall boots to fit is a challenge. I was looking for an easy on/easy off winter boot and with the elastic toggles I was hopeful these would fit. They did fit on my calf, but they were still a tad tight especially if I were to wear a thick layer. To be fair, the dimensions show 14", so I knew it would be a stretch. Even with the slightly tight calf fit I would have kept them and feel they may have broken in/stretched with use. The reason I returned them was because they had heal slip, this is the only reason they got 4 starts.

I considered exchanging for a 1/2 size smaller to see if it helped with the slip, but STP was out of that size. My girlfriend is a 1/2 size larger than me and so I asked if she was interested. She tried them on and had the same heal-slip problem. It could just be the fit of these boots, I'm not sure.
Otherwise they were comfy and seemed like they'd be warm if worn outside. They also had a bit of tread which would be nice walking in snow.

Reviewed by winterlover from Illinois on Tuesday, January 14, 2014

Boots are awesome. Very warm, comfy. Have had a lot of compliments.

Reviewed by Anonymous from Wisconsin on Monday, January 13, 2014

Style, warmth, comfort - all as reported. Opening toggles - a nice feature for the option to get your pants tucked further inside boot. Color more gray than tan as shown.

Reviewed by jmaxx from #Chiberia-Chicago IL on Tuesday, January 7, 2014

These boots are adorable. More structure and style than the popular shearling boot . People have actually stopped me while shopping to ask and compliment me on them.

I wear an 8.5 or 9 got a 9 which is plenty generous. I need a thick sole under my foot, the sole on these is super thick, soft but not mushy. They are very comfortable. There is a good amount of traction, not as much as my hikers but winter worthy.

They are very warm , but I am not sure they are 100% waterproof, could be that snow got in. I have no problem with the toggles as some reviewers mentioned, but we have a good shoemaker in town if I ever do.

Reviewed by Happy from MT on Friday, December 27, 2013

I had purchased a pair of these a couple of years ago, and got so many compliments on them, I ordered another pair in a different color. Same compliments again!!! If they had more colors, I would buy them. Runs true to size. They feel like you're wearing slippers all day, and have a great gripping sole for bad weather. The inner sole comes out for drying if needed, which is a nice feature. I have several other styles of Sorel boots, but these are my absolute favorite Sorel boot ever!!! So comfortable and toasty!!!

Reviewed by Ilisa from Oregon on Friday, December 6, 2013

These boots are really cute and fit true to size. They are warm yet light in terms of weight. I feel like I'm wearing a soft slipper or sneaker. They are not supportive in terms of hiking; they are more like an Ugg but waterproof.

Reviewed by Upstate girl from Upstate New York on Tuesday, November 26, 2013

I bought these boots a few years ago, my daughter loved them so I bought a pair for Christmas. They are comfortable and stylish for a wintery day but can't wear them to walk around the city as they don't fit like a pair of shoes.