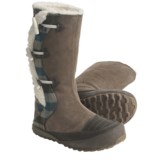 Closeouts. The Inuit-inspired styling and dependable weather protection of Sorel's Suka II boots make them the perfect go-to kicks for cold-weather wear. The waterproof leather upper shields you from snowdrifts and the plush faux-shearling fleece lining keeps you nice and cozy.
Average Rating based on
96
reviews
4.479166
0
5
Verified Buyer

Reviewed by girlieghmom from Michigan on Monday, June 29, 2015

I bought these for my very picky daughter and she loves them! We haven't used them in cold weather but they look like they are a quality boot with soft fuzzy lining and very cute style.

Reviewed by Aileen from New York on Saturday, April 18, 2015

Have had it for 2 years. Purchased when I need to travel to Alaska in March for 1 week. Really warm. Too warm to use in NY when not too cold. Got a lot of compliment. Love it so much.

Verified Buyer

Reviewed by hadditt from oregon on Monday, October 27, 2014

They fit nicely and are fluffy and warm. I haven't tried them in the snow yet but it is still fall.

Reviewed by SoDak from SD on Friday, April 4, 2014

I bought these boots (the lighter color with purple accent) to replace my bear paws. There is a heal slip, but in comparison to my previous boots it is mild. I am a teacher and although I have shoes to change into in my classroom, I have always chosen to wear these all day. I find them very comfy and although they keep me warm when I'm out in the cold, I do not overheat when wearing them indoors for extended periods of time. I don't wear skinny jeans, but have tucked my pants into them on occasion and always get complements!

Reviewed by SnowBunny from New Jersey on Thursday, March 6, 2014

These boots are great! They are so warm and look cute too! What impressed me the most was the thickness of the insert making the boots so comfortable you feel like you're wearing a sneaker. Highly recommended to anyone interested in a winter boot with some style.

Reviewed by Diana from New York City on Thursday, March 6, 2014

The boots fit true to size. I'm a 5.5 and the 6 fits well w/socks. They are very comfortable and cushiony. They're also very warm and kept my feet toasty during the polar vertex when temperatures were in the teens and single digits. I love how the boots look and the toggle buttons are also a nice touch.

Reviewed by Bobbi loves denim from NY,NY on Wednesday, March 5, 2014

Slipping them on, right out of the box, they were extremely comfy and warm. Have not had the chance to wear them out yet but looking forward to doing that. My husband really liked them!

Reviewed by Confortable boots Diva from West Virginia on Monday, March 3, 2014

The Sorel Suka II Boots is very warm inside. I only gave 3 stars because once you wore them for a period of time your upper leg gets so tight & circulation is not so good. The way it was made is theres not much room for your legs to move which makes it uncomfortable while walking at the end of the day. They are not true to size.

Reviewed by CorvallisGal from Oregon on Tuesday, February 25, 2014

I bought these for my daughter. They are very well made and comfortable. She wears them every day. Fit was just what we expected. We sprayed them to protect from wet and dirt; it hasn't been super-cold yet, but I'm sure they'll be great.

Reviewed by Lee from Taiwan on Thursday, February 20, 2014

It's a good & beauty shoes, but hope can ship it to Taiwan directly.

Reviewed by Lazuli from Chicagoland on Friday, February 14, 2014

These boots are great! They are warm and cozy and cute besides. I tried both the "mud" color and the "tan" color and liked the latter better, which is good because the "tan" color came in my size, but not the other one. It runs true to size. They do fit a bit like rain boots, with some heel slippage, but that's ok. They slip on quite easily over boots, which is great for a mom trying to get out of the house. They have pretty good traction on the ice, and are fine in basic snow/slush. I haven't tried them for extensive snow play, but they work just fine for stepping out of the car into a few inches of snow or slush.

Reviewed by boots from michigan on Sunday, February 9, 2014

The best boot I've ever owned. The day after receiving them in the mail I trekked through calf high snow and I stayed dry and warm. Very comfortable. I love them, and I've already received many complients

Reviewed by outdoorgirl from Colorado on Thursday, February 6, 2014

I will return these for a different pair that fits better. I wear a 7 and thesea re too tight. Too bad I really like them

Reviewed by Anna from Michigan on Tuesday, January 21, 2014

I have larger calf (15inches) and finding tall boots to fit is a challenge. I was looking for an easy on/easy off winter boot and with the elastic toggles I was hopeful these would fit. They did fit on my calf, but they were still a tad tight especially if I were to wear a thick layer. To be fair, the dimensions show 14", so I knew it would be a stretch. Even with the slightly tight calf fit I would have kept them and feel they may have broken in/stretched with use. The reason I returned them was because they had heal slip, this is the only reason they got 4 starts.

I considered exchanging for a 1/2 size smaller to see if it helped with the slip, but STP was out of that size. My girlfriend is a 1/2 size larger than me and so I asked if she was interested. She tried them on and had the same heal-slip problem. It could just be the fit of these boots, I'm not sure.
Otherwise they were comfy and seemed like they'd be warm if worn outside. They also had a bit of tread which would be nice walking in snow.

Reviewed by winterlover from Illinois on Tuesday, January 14, 2014

Boots are awesome. Very warm, comfy. Have had a lot of compliments.

Reviewed by Anonymous from Wisconsin on Monday, January 13, 2014

Style, warmth, comfort - all as reported. Opening toggles - a nice feature for the option to get your pants tucked further inside boot. Color more gray than tan as shown.

Reviewed by jmaxx from #Chiberia-Chicago IL on Tuesday, January 7, 2014

These boots are adorable. More structure and style than the popular shearling boot . People have actually stopped me while shopping to ask and compliment me on them.

I wear an 8.5 or 9 got a 9 which is plenty generous. I need a thick sole under my foot, the sole on these is super thick, soft but not mushy. They are very comfortable. There is a good amount of traction, not as much as my hikers but winter worthy.

They are very warm , but I am not sure they are 100% waterproof, could be that snow got in. I have no problem with the toggles as some reviewers mentioned, but we have a good shoemaker in town if I ever do.

Reviewed by Happy from MT on Friday, December 27, 2013

I had purchased a pair of these a couple of years ago, and got so many compliments on them, I ordered another pair in a different color. Same compliments again!!! If they had more colors, I would buy them. Runs true to size. They feel like you're wearing slippers all day, and have a great gripping sole for bad weather. The inner sole comes out for drying if needed, which is a nice feature. I have several other styles of Sorel boots, but these are my absolute favorite Sorel boot ever!!! So comfortable and toasty!!!

Reviewed by Ilisa from Oregon on Friday, December 6, 2013

These boots are really cute and fit true to size. They are warm yet light in terms of weight. I feel like I'm wearing a soft slipper or sneaker. They are not supportive in terms of hiking; they are more like an Ugg but waterproof.

Reviewed by Upstate girl from Upstate New York on Tuesday, November 26, 2013

I bought these boots a few years ago, my daughter loved them so I bought a pair for Christmas. They are comfortable and stylish for a wintery day but can't wear them to walk around the city as they don't fit like a pair of shoes.

Verified Buyer

Reviewed by e from Long Island, NY on Monday, February 11, 2013

Love these boots. they are just what I was looking for and are the fit is perfect.

Verified Buyer

Reviewed by loving shoes from Southeast, Iowa on Friday, January 25, 2013

These boots are very comfortable as well as really warm. The ankle area is a bit big, but they are snow boots and meant for thick layers and socks.

Verified Buyer

Reviewed by sv from surrey, bc on Wednesday, January 23, 2013

good fit, cute color, warm as toast

Verified Buyer

Reviewed by SuSan from CT on Wednesday, January 16, 2013

These boots are absolutely beautiful! They look great and feel great. I bought these to replace a pair of Uggs that are very slippery when walking in the snow (crazy, right?), anyway, these have a great sole the is chunky enough for walking on slippery surfaces, but, no so giant as to look clunky. I haven't worn them yet in super cold weather so I am not sure about the warmth factor, but, they seem like they would be quite warm.

Verified Buyer

Reviewed by BHgirl from Fairbanks, AK on Monday, January 7, 2013

I live in Fairbanks, AK and was looking for cute boots that would keep my feet warm at -15F. So far, so good. Lowest I've tested them is -10F. I wouldn't recommend these for hiking, due to the lack to ankle support.

Verified Buyer

Reviewed by moviestar from colorado on Monday, December 31, 2012

Great warmth and comfort !!

Verified Buyer

Reviewed by Blairomie from Anchorage, AK on Monday, December 17, 2012

Great traction!! The soles on these Sorels is so grippy in icy conditions. The calf fits perfectly. I've seen reviews where the toggles have broken and I have to say, it's only a problem if you are unbuckling them every time, which I don't. They slip on and off easily and are so warm. A welcome shift from the typical slip on boots (UGGS), a am so pleased they are so much more durable and functional in freezing temperatures and snow. Not to mention they are adorable.
One thing, they are loose in the ankle. They do have a tendency to sag/bunch up in that area, this is why I took away the fifth star.

Verified Buyer

Reviewed by eee from Shady Valley, TN on Wednesday, December 12, 2012

Loved this boot online and in my hands however I have a wide foot and high arch and should not attempt to buy boots or shoes online UNLESS I have tried them on elsewhere. They rubbed my ankle when I walked. Did not like sending these back.

Verified Buyer

Reviewed by nyeusi from denver, co on Tuesday, December 11, 2012

very comfortable. good for going out in snow and staying warm but not for anything intense.

Verified Buyer

Reviewed by ki from Colorado on Wednesday, December 5, 2012

The boots are nicely made except for the strap design that holds them together. I noticed the area sorrounding the ankle would stretch outwards when moving forward. This alone made it feel too lose and you can not adjust the stretch bands that hold the boot close. Outside of that, the boots feel nice. I wont buy again unless they fix that problem. MAYb make the bands shorter since they do stretch or change strap design all together. Overall, I'm still happy with my purchase.