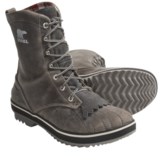 Closeouts. The weathered leather and suede upper gives Sorel's Tivoli Camp 18 boots a mature, broken-in appeal. And the looks are backed up with combined microfleece/flannel lining, a molded rubber outsole for slippery surface traction, and a reversible kilty to protect the laces from fussy outdoor debris.
Average Rating based on
17
reviews
4.647058
0
5
Verified Buyer

Reviewed by lindee from tn on Sunday, October 25, 2015

loved these boots, they are cute as well as comfy

Reviewed by Amber from Minnesota on Saturday, May 24, 2014

If there were more colors available in my size, I would buy these again. The sizing is perfect. They are comfortable and warm; even for MN winters. One of the best boots I have owned. I am very pleased!

Reviewed by capricorne from Brooklyn, NY on Thursday, February 27, 2014

I have been suffering a difficult geoengineered NYC winter this year and finally broke down and admitted that I need a pair of boots that would hold up to contaminated snow, gravelly ice and chemical-laden ice melting granules. I scoured the internet for Sorel boots as I have been really coveting a pair since last year. Having finally found a pair within both within my budget and fashion sensibility (black and classic), I was disappointed that they didn't arrive as promptly as I expected. Having used Paypal (which I LOVE), somehow the boots were en route to my former office address. I called the customer service agent to inform them of this and she told me that Paypal had the address on file as the SHIP TO. I looked at my Paypal account and my correct home address was listed in the SHIP TO column. That little mercury retrograde glitch aside, I waited through 2 more snow storms and UPS weather delays, before my prized boots arrived. I don't wear shoes in my house but immediately put the boots on my home office and was relieved to know that the 6.5 size was perfect and ooooohhhed and ahhhhhhed from the almost marshmallow-like bounciness and comfort the boots imparted to my feet. Not only stylish and comfortable, these boots are durable and surprisingly light. My true rating would be to give 4.5 stars and not 4 or 5. I would LOVE to give 5 stars but can't because my feet are STILL FREEEEEEZING when I am outside. The interior liner needs to be more efficent somehow.
To be fair, I haven't worn the boots with thick socks yet (I don't think I have had them in my possession for a week).
Aside from that, I have gotten compliments and I am very proud to wear them. The money was well-spent and I hope that I don't need to wear them that much often for the rest of the season, but if I do, I will put the thicker socks on if we keep braving these temperatures.


Reviewed by RM from TX on Wednesday, February 12, 2014

BOUGHT THESE IN 6.5 AND ANOTHER COLOR IN 7 , GOOD THING I DID BECAUSE MY TEENAGER WANTED THESE. BOTH SIZES WERE GOOD FOR ME BUT THE 7 WOULD BE BETTER IF YOU NEED THICKER SOCKS. THEY ARE SOME OF THE MOST COMFORTABLE BOOTS IVE EVER OWNED. CUSHIONED LIKE A DOWNY SLIPPER, AND YET SO IMPRESSIVE AS TO BE WATERPROOF. LOVE THE LOOK OF THEM, TOO. MY DAUGHTER HAS WORN HERS SEVERAL TIMES AND DID COMPLAIN ABOUT THE LACES COMING UNHOOKED DURING THE DAY. I THINK IF SHE JUST TIGHTENED THEM THEYD BE FINE. LOOKING FOR THEM TO GO ON SALE AGAIN AS I ALREADY HAVE A FRIEND IN MIND TO GIFT THESE TO.

Reviewed by Meredith from WI on Tuesday, February 11, 2014

I had purchased another pair in a different color, and had to come back for these. In addition to being stylish, they are true to size, waterproof, sturdy, and comfortable. Highly recommend them to anyone!

Reviewed by Sie from Indianapolis on Saturday, January 25, 2014

They are a half inch too small and very narrow. I exchanged them for the Pajar brand which I thought an excellent brand over Sorel. The Pajar were made better and lighter, not as heavy.

Reviewed by Ohio Mom from Ohio on Saturday, January 4, 2014

I have been wanting to order these for a while, and when they went on sale, I finally did. I love the way they look. They are rugged, but stylish. They look very well made, which you would expect from Sorel. They are very comfortable in the foot area. The only problem is where the tongue on the boot is. It overlaps on the edges when you lace them up which creates these big bumps that dig into the tops of your ankles , which hurts after a short while. The leather might soften over time and lay a little flatter but I'm not sure. This is definitely a design flaw. I really want to keep them, but I don't know if they will be comfortable enough to wear for more than an hour. This is the second pair of sorrels that I have purchased. I wear the other pair all the time. I am normally an 8.5, but ordered a 9 in both, and they are perfect with or without thick socks.

Reviewed by APaulsen from Vancouver, BC on Tuesday, December 3, 2013

The perfect boot.
Warm, sturdy, can walk 3 miles easy and the comfort factor is better than ever.
I love the all black look. I'm not one for extra frills.
You will not regret this boot.

Reviewed by Eunice the nanny from Chicago on Monday, December 2, 2013

These boots are really cute, waterproof and keep your feet really warm. I get a lot of compliments on these boots.

I wear a 9 and ordered just that. Size was perfect.

Reviewed by Kim the Huntress from California on Friday, October 11, 2013

So comfortable, warm and durable. These are the best boots I have. I often find Sorels to be uncomfortable, but these are awesome.