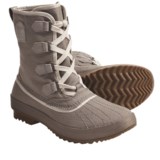 Closeouts. Add some old-school style to your winter footwear with Sorel's Tivoli Rugged boots. The deconstructed canvas upper is stonewashed for a broken-in feel and unlined so it's comfortable in transitional temperatures.
Average Rating based on
36
reviews
4.055555
0
5
Reviewed by Alex from Chicago on Saturday, November 5, 2016

I have had these for years and put them through the ringer, and they've really held out. I've worn them in snow with thick wool socks walking around campus, and as long as its not too wet they kept my feet fairly warm. I've also worn them in the summer on light hikes and the unlined canvas materials makes them comfortable and breathable as long as its not too too hot. I really lucked out with these. They are a bit heavy, but have been really useful and comfortable for multi-purpose occasions. AND they are attractive with the unique color. I got a size 6 which is normal for me and they fit great. Never gave me blisters which was nice considering they don't have much of a cushion. Really great buy. I would have bought a second pair if I had known how durable they'd be.

Verified Buyer

Reviewed by ColdMilk from Ohio on Tuesday, February 17, 2015

I've been wanting these boots, but was concerned about the fit based on the reviews. I have the Tivoli Leather Camp 18, which also had some reviews stating they ran small, but they fit true to size. I found the Tivoli Rugged to run true to size as well. I'm a 5 1/2 in most shoes (5 in flip-flops/sandals). I got these in a 5 1/2 and they're perfect for my left foot, and just a little snug on my right. However, I had no discomfort on the first day that I wore them. I'm sure they'll break in to fit perfectly. My Camp 18's were snug at first, too, but now they are so comfortable. The top part is too wide for my skinny calves, but I don't intend on wearing them without pants tucked in anyway. I got them in black, but I'd like them in other colors, too, if they were available in my size. Quality boots for a great price at Sierra!

Verified Buyer

Reviewed by Kelsey from Ohio on Saturday, January 24, 2015

I have gotten a lot of compliments on these boots and I love how they look. They are very comfortable, but they are not lined so they are not the greatest for winter. Also, I would recommend using something to water proof them since they are canvas. Overall, they were a great deal and I'm very happy with them.

Verified Buyer

Reviewed by Ms. Nikki from Chicago on Monday, September 15, 2014

Nice looking boot, but I couldn't even get my foot in it with a sock! Not what I expected and I won't be wearing the without socks, so they must go back.

Verified Buyer

Reviewed by Busymumsey from Southeast idaho on Saturday, May 24, 2014

These are much too narrow for my feet and need to return them but can't locate my invoice. Is there any way to help me with this? Think they would have been a warm pair if only had been wider.

Reviewed by Sara from Iowa on Friday, March 7, 2014

My husband has been raving about his Sorel boots this winter so I thought I'd buy myself a pair when I saw these on closeout. I'm a size 6 in most shoes and these fit true to size. I bought the Elephant color - so cute! These have been versatile and durable in a variety of environments thus far, although I haven't tested how they hold up to water yet. Good grip on the sole, though and the canvas material of the booth holds up well.

Reviewed by Chan from Utah on Tuesday, February 25, 2014

This was my first purchase of sorels and I was very happy with them the first week. But after only the third time wearing them the inner lining ripped and now catches my heal anytime I try and put the shoe on. However they keep my feet warm and have great grip for snowy slippery conditions.

Reviewed by Annon. from Kansas on Wednesday, February 19, 2014

Are a little on the big side but overall they are fantastic, lightweight boots.

Reviewed by oheyey from Pennsylvania on Monday, February 17, 2014

I've been looking for a pair of semi-cute, but semi-rugged boots to wear once the weather gets nicer, but found it hard to find the right style. I saw these in a store (in the darker gray with white accents) but not in my size, which led me to search the internet, where I found them here. Shipping was quick and reasonable, and the price was great! I plan on wearing these hiking/camping/in the garden, and basically anywhere outdoorsy. I also plan on getting hold of some Never Wet, since these are canvas (which I love the texture/feel of) and as such aren't super water-resistant. I can't wait for springtime so I can get out and wear them!

Reviewed by frankie from Chicago, IL on Friday, February 14, 2014

Great boots. I bought these to use for an outdoor pond hockey tournament in Northern Wisconsin and they kept my feet warm and dry the entire weekend without the use of heat packs. A lot of Sorels can be bulky, but the canvas keeps these lightweight and comfortable without compromising warmth. They're low-profile enough that they look good with jeans while trudging around Chicago running errands. Can't complain.