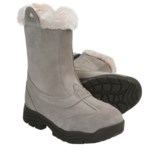 Closeouts. Cozy up to the clean and easy style of Sorel's Waterfall Slip 2 boots with winter-ready protection. This waterproof design is insulated with Thinsulate® Ultra for ultra comfort.
Average Rating based on
19
reviews
3.631578
0
5
Verified Buyer

Reviewed by Mary from Maryland on Sunday, December 28, 2014

These are great Sorel boots that I'm sure will do well in the snow. However, they were too narrow at the ankle to be able to get them on. My recipient just couldn't get her foot past the ankle. Shame too, she loved the boots and I love the quality of Sorels.

Verified Buyer

Reviewed by Kenamac from VT on Tuesday, December 16, 2014

Warm comfortble good-looking. Loved them until the zipper broke on about the 5th wearing. Now I have to find another pair!

Reviewed by Patty Ann from Louisville on Sunday, March 23, 2014

Love my new boots. Never needed boots like this in Atlanta but since moving to Louisville I needed a serious pair of boots. These fit the bill and look good too.

Reviewed by The EP Biker from Minnesota on Saturday, March 15, 2014

Nice boots, but I had trouble removing them. It's entirely possible that it's just me, since I have extremely serious knee problems and cannot kneel. Perhaps they would be easier to remove if I were sitting down, I don't know. I just know it was a struggle. I had been to several outdoor stores in my area and tried on boots and was told go 1/2 size larger than my shoe size. These were rated as running a little small, so I went up 1/2 size from what I was told my boot size should be; they're a little too big for me, but would have been perfect had I only gone 1/2 size up from my shoe size.

I left the country for a couple of months so I only wore them 2-3 times before I left. They did seem to be warm enough (usually this is a major problem for me); they're certainly comfortable; and they're a nice-looking boot (not a dress boot, but nice for everyday). My only problem with them was the difficulty in removing them, but, again, that could just be me and my circumstances.

Reviewed by Karen from Illinois on Thursday, March 13, 2014

I am size 7M in all shoes and boots, and these were perfect. I hike in the snow with my dogs and my feet stay warm and dry. If I'm going for a long hike I put on regular socks, if I'm just going to the back yard I slip into these with bare feet - and my feet stay warm. They are sturdy and I expect them to last many, many years. The zipper seems sturdy, but the zipper pull seems on the small side - the only tweak I'd make to these.

Reviewed by Brett from Michigan on Tuesday, March 11, 2014

They aren't going to win any style awards anytime soon, but after coming home with wet feet on several occasions this long winter, they are most welcome. I do wish they hadn't had zippers and had been true slip ons. I was looking for something to throw on first thing for shoveling. These are pretty great, though. Super warm. Super soft. Super water proof. If I were to buy again, I'd get a darker color.

Reviewed by Work Walker from Seattle on Tuesday, February 18, 2014

This felt like a wonderful boot, good fit ... loved the traction ... but I couldn't begin to get them zipped! And I don't have large ankles or calves. I was tempted to keep them and just never zip them up, but eventually decided to return them and keep searching.

Reviewed by Kolo wisi from Colorado on Thursday, January 23, 2014

I think I am going to send these back. I bought them to wear before and after backcountry skiing. The shank is super tight and really hard to get into, making them a struggle to put on. Not so good when you are tired with damp socks after a ski trip. They really were pretty tight in the calves and I don't have huge calves. It probably would have been OK if I had left the zipper a little open and let them stretch some. But they were not lined, at least not with anything comfortable. And they were just really hard to pull on. Too bad because they are a nice looking boot, just not super functional

Reviewed by Dee from Pennsylvania on Monday, January 20, 2014

The boots were cute but I usually take a 7.5 so I ordered an 8. I couldn't get my foot into them to save my life. Needless to say, they are on their way back.

Reviewed by N8 from PA on Sunday, January 19, 2014

Nice looking, warm and waterproof...who could want more!