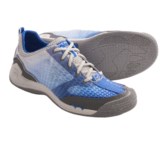 Closeouts. The ultimate hybrid, Sperry's Sea Racer sneakers feature a light, modern design with an ultralight fabric upper and a sticky, HydroGrip rubber outsole with wave-siped tread for the best wet-dry traction in the world.
Average Rating based on
19
reviews
4.842105
0
5
Verified Buyer

Reviewed by restless margin from Georgia on Saturday, August 8, 2015

These are great. Between the two of us, we have three pairs, each a different color, pattern. They are comfortable and work well on the boat. A great shoe and an amazing price. buy them.

Verified Buyer

Reviewed by big foot's mom from South Carolina on Tuesday, July 21, 2015

good water traction and not dorky looking

Verified Buyer

Reviewed by Frankie from Ct. on Wednesday, July 15, 2015

I needed shoes that would not mark the deck

Verified Buyer

Reviewed by Sasscat from Peoria, IL on Friday, June 26, 2015

Nice shades of blue - good construction and wonderful for water situations.

Verified Buyer

Reviewed by Tim the family Man from Dallas on Tuesday, June 23, 2015

Great quality!

Verified Buyer

Reviewed by LC from North Carolina on Thursday, June 18, 2015

Outstanding value. Shoes fit well and I look forward to wearing them on the boat.

Verified Buyer

Reviewed by Ecoddens from Idaho on Tuesday, June 16, 2015

I am happy with the shoes and the shipping

Verified Buyer

Reviewed by River Bum from Missouri/Arkansas on Monday, June 15, 2015

Haven't had my pair long enough to give it a 5 star rating as I tend to reserve that for durability but the price, initial quality, and fit I can speak to. The Sperry Sea Racer is a solid water sports shoe providing excellent grip on troublesome terrain either wet or dry. On my last outing I went from riverbed to canoe back to the river bed and up a muddy slope trailing the canoe. Every transition was as simple as grass to pavement. I was able to climb when needed and traverse river rocks with a moderately speeding river with confidence that I had the grip I needed. While the Sea Racer never slid from my foot I found it did let in a bit of debris which I had hoped would be less of an issue but is to be expected from a lace-up shoe.

The price is a steal as I was considering these at their direct from Sperry price and with minor shipping I couldn't pass up the deal. The fit is quite like your typical running shoe and is a bit narrow for my feet but aides in keeping them in place and providing sure footing. The comfort offered by the shoe is excellent for water sports, boating, even fishing for long hours. In the dry, the insole makes for a warmer footbed but can be removed to provide more cooling. The mesh upper provides quick drying and a cool surrounding for the foot. My advice is to remove the insole for quicker dry times and if hot soles are an issue and replace it for water activities or long walking/hiking as it helps with foot fatigue.

On whole, the Sea Racer is a great design and provides excellent grip wet or dry. Only time will tell for its durability but its initial quality is sturdy and up to all tasks.

Verified Buyer

Reviewed by JM from Ohio on Wednesday, June 10, 2015

Very comfortable. Excellent quality and price! Bought it for my son. He loves them!

Verified Buyer

Reviewed by Tyler from North Carolina on Tuesday, June 9, 2015

The shoes fit well and they feel good on. They look nice enough to wear around town (a beach town or harbor town) and not be worried about getting them wet. They dry quickly and and really light.

They don't seem to be very good "beach" or "river" shoes though. Sand and other dirt easily get into them and it's very uncomfortable to walk when they have grit in them. It's easy enough to get the dirt out of the shoes though. The insoles come out really easily and they are a easy to rinse out in the water or with a hose.