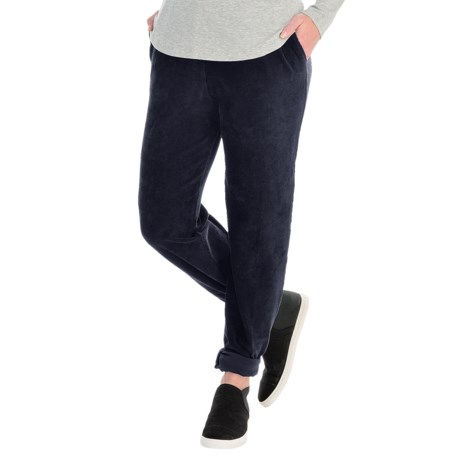 I ordered two in large.

They are Lands End pants so you might check their website for a similar sizing in that style

Mine are 27" new and washed. I'm 5'2" and they fit fine. Love them for everything.

27.5

No idea of the size of an XS, but the XL is about 29". BTW, these are very nice pants.

Sorry to say I cannot answer that. I bought an XL then L and lastly a M.The L and XL were actually the same size in length and girth. The M is probably

abiut 16 in the real world. I am only 5'2'" and the M size is a little long for my 28" inseam. The larger sizes were about 3" longer. I have no idea about XS.

Good luck.

Don't know. I've only gotten the small. No idea what color/size you got, but can say this.... OTHERS have said (and I've also experienced a bit of this) that the same size can vary depending on color. I can only say that 'USUALLY', they run big (small for size 6 - 8 is roomy). Inseam is usually in the 30" - 32" range for a small.

Sorry, I answered last that the inseam was 30 - 32. The one I measured may have been the longer of colors, so say 30" to be safe. A couple have been in the 27 - 28" range, so I can only wear those tucked inside boots or lounging around the house. It's a matter of preference, I won't wear pants above the ankle. I'm 5'3" but legs a bit long for my size. But they are all super-comfy. :-D

I'm so sorry, I cannot answer. I always have to shorten pants, and have already done that with this pair, so can't help you. My best guess is that it was about 29".