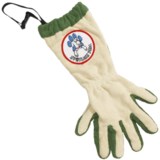 Closeouts. Dogs have to go outside even when it's raining or muddy -- a prospect you'll dread much less when you own a Spotless Paws' Dog Paw cleaning glove. The microfiber soaks up dirt and water in no time, and your dog will love it, too.
Average Rating based on
18
reviews
4.555555
0
5
Reviewed by madtown girl from Madison, WI on Sunday, December 1, 2013

fun prank gift, but who would expect?? It works!

Reviewed by Dog Owner from Centra Coast, CA on Thursday, November 21, 2013

Great price for this item. I bought them when they first were shown t at Eukanuba Dog show in Long Beach and it's always hung on my door to clean muddy paws. It's lasted years now being washed every week and with sun exposure at the door. Glad to get one for a gift and backup at a much more competitive price.

Reviewed by Pfanny from Maryland on Sunday, November 17, 2013

The same material in a towel does work well, but when my cats (who have no problem going out in the rain thru the doggie/cat door) come in wet, they run if they see me with a towel. Having my hand in a glove makes it easy for me to get hold of them and dry them off. And you can dry paws, wipe down legs, go over tummies more easily with this super absorbent glove.

Reviewed by Pfanny from Maryland on Wednesday, November 6, 2013

I gave this 5 stars even though I haven't used it yet, because I've used towel of this material, and it is magic. I almost can't wait for my dog to come in soaking wet. It will also make it easier to dry along her legs and between her toes than with a towel.

Reviewed by Little Timmy from Arlington, Texas (DFW area) on Friday, October 11, 2013

I got them just after the rain stopped here in North Texas, but I'm sure they will do a better job than an old towel. Now I'll have the dogs stand on a towel as I massage their muddy feet to extract the mud.

Now that it's starting to rain more, I might get another just so I can rotate while washing.

Reviewed by Benson from NJ on Tuesday, October 8, 2013

It's a glove. Any towel or rag will do the same job. Buy it for the dog lover who has everything else; but, as for me and my lovable mutt, we'll stick to using a towel.

Reviewed by Butchdog from MN on Saturday, September 28, 2013

These gloves are very handy, slip on easily, and do a nice job of cleaning the dogs paws.
The double thumb design making them reversible is pretty nice.


Reviewed by Terbear from Colorado Springs on Friday, August 23, 2013

Great way to dry off the tummies of our 3 dogs after a romp in the in the puddles. Dries quickly, this is colorado though. Can shake out the dried dirt in between uses.

Reviewed by Jo from Virginia on Thursday, August 15, 2013

I purchased two of these....while one is in the washer, the other is at the ready on the doorknob. I have three dogs of various ages and almost 2 acres of land. They all love to be outside and a little rain doesn't stop them. These gloves have made cleaning off their paws a much easier task....and they have kept our light colored tiles in the sunroom and kitchen from having fewer muddy dog prints. Now, for a fully wet dog....I still need to reach for the dog towels....but, these gloves are great for quick paw clean-ups. And, with the extra finger, you get two sides of the glove. I liked them so much that I bought a pair for each of my neighbors (they each have two dogs) and a friend of mine who takes her dog for a run each morning....rain or shine. I am thinking of getting some more just in case they aren't made anymore and I find more friends who want them.

Reviewed by Busy Mama from Western NC on Wednesday, July 10, 2013

I ordered 2 of these gloves, and I'm glad I did. Can use the dry one while the other one is drying. They really soak up a lot of wetness/mud from my large dog's paws. Much better than a towel in my opinion.