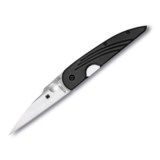 Closeouts. Spyderco's Des Horn folding pocket knife has a sleek design that intertwines elements of both a spear-point and a wharncliffe shape blade and features a PlainEdged tip.
Average Rating based on
11
reviews
4.909090
0
5
Verified Buyer

Reviewed by D. from Southeast US on Thursday, June 25, 2015

Got the first Des Horn Spyderco about one year ago and have reviewed it here already. When another one became available again on STP for considerably less than before I simply could not resist. It arrived still sealed from the maker with literature and box. Do take the opportunity to visit Dr. Horn's website. He is a dentist by profession and a multiple award winning knife designer/maker by "hobby". See for yourself the many elements of style and design inherent to his bench made originals that appear in this Spyderco collaborative. The superb build quality from the craftsmen in Taichung, semi exotic CPM S30V blade steel in a bronze bushed pivot, highly polished and skeletonized stainless liners, delicious understated Deco stying from tip to butt, along with some of the finest G-10 usage in a knife body out there (lightly textured, semi polished, & extremely rigid) combine to yield one sweet statement in the genre... a champagne heritage thoroughbred on a beer budget that is certain to please any man or woman time and time again. [NOTE: This elegant high styled Des Horn inspired lightweight not only delivers in looks but is also a fully capable performer for so many tasks; think 'Xacto razor' having a pinpoint tip plus a full 105mm razor sharp cutting edge below the proportionately stout 3mm spine in a compact concealable folder weighing a mere 56 grams with the handling of a Lotus Super Seven.] Get one of these discontinued beauties while they can still be had. If you do not just love it dearly, well, I will eat a bug (!).

Verified Buyer

Reviewed by Jim from AR on Tuesday, May 19, 2015

Godd quality steel. VERY Sharp. Easy to sharpen. Good knife AND a work of art. Not too large or heavy to carry.

Verified Buyer

Reviewed by T0toro88 from North Carolina on Monday, May 11, 2015

Tricky to open or close with one hand, in part due to not having enough 'purchase' on the handle with the end tapering to a point. That said, in all other ways this knife give me such pleasure every time I look at it. Elegantly clean and simple design with beautiful understated graphics in the lines on the handle and matching lines on blade edge. Lightweight, simple functional clip, nice size. A very nice knife with the usual Spyderco quality.

Verified Buyer

Reviewed by Thomas from Kentucky on Friday, May 8, 2015

I had seen and shopped for Spyderco knives for a while but could not get beyond the price being asked for them. I found this one on sale at a price I was willing to afford and now I understand why folk pay far more than did I for this outstanding knife. The action is smooth as silk, it came, literally, sharp enough to shave (I gave it the "arm hair shave test"), the weight is miniscule without sacrificing substance. The low carry clip "hides" the knife in a pant pocket and the weight is such I can carry it in my dress slacks without it being obvious. Be careful of the blade point, it is needle sharp.

The only draw back is the G-10 have been finished to a glossy finish, possibly making it too slick.

I wish I had ordered multiple knives when I got this one. I would have already completed my Christmas shopping.

Verified Buyer

Reviewed by Streetgugy from Chicago on Wednesday, May 6, 2015

I find this a useful tool. It is easy to open with one hand. I think must have little baring in it because it is so smooth. It is lightweight and fits nicely in my pocket. It is very sharp.

Reviewed by Anonymous from Arizona on Thursday, June 19, 2014

This is as light as a feather. I forget it's in my pocket. And it's a Spyderco! My top brand is Bench Made, a close second is Spyderco. Easy open and close.
Wish it had a couple of serrations on the blade, but those might weaken it so I'll not complain.

You will not be disappointed! I'm buying a spare. STP price simply cannot be beat.

Go for it.

Reviewed by D. from Southeast US on Tuesday, June 10, 2014

The Des Horn (a la Spyderco) arrived yesterday (packed nicely by STP) and was immediately impressive with its overall quality, design, stylishness, and fit / finish. It is a lightweight (~2 oz) having a three piece polished shallow patterned G-10 outer body (scales and handle back), recessed skeletonized stainless liners, and tip-down wire clip with most of the weight being in the CPM S30V Wharncliffe blade's hefty spine core and pivot steel; both grind (flat) and sharpness are as to be expect from Spyderco. The liner lock is simple but fully effective in achieving a firm purchase to the pivot steel. The knife's maker (in Taichung) demonstrates first class production quality in every detail so I have no negative criticisms. This strong yet sleek beauty of a Deco styled light to medium duty folder is sure to delight most any owner. To use as an EDC or for a special 'night at the opera'?

Verified Buyer

Reviewed by rawash from NoCal on Saturday, May 10, 2014

May not suit everyone's taste but if you appreciate design, great materials, fit and finish then you'll love this knife. Not meant to be hard use, but is very capable as a light duty stylish companion. Quality is as expected from Spyderco ... first rate.

Verified Buyer

Reviewed by tom the collector from Westland Mi. on Saturday, May 10, 2014

Incredibly sharp,perfect gentleman's edc fit and finish is as expected from Spyderco.Great buy

Verified Buyer

Reviewed by stlrfan from Florida on Monday, April 14, 2014

As expected from this manufacturer.