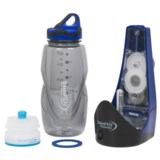 Closeouts. SteriPEN's Sidewinder battery-free UV water purifier is ideal for travel, camping off-the-grid or emergency situations. It uses a hand crank to power a UV light that purifies a liter of water in 90 seconds.
Average Rating based on
18
reviews
3.666666
0
5
Reviewed by Ianb from Colorado on Thursday, October 16, 2014

I bought this model since I din't want to rely on batteries while on extended camping and climbing trips. As soon as I opened the package I was surprised at how large the whole system was. More importantly, the ONLY way to protect the exposed UV bulb is by keeping the water bottle that came with it screwed to the base unit. This creates a package as big as 2 liter water bottles together. If you don't keep the water bottle attached, the UV bulb is completely exposed and will likely break the first time you pack it anywhere. It may work fine if all you need it for is car camping where space is not an issue, otherwise stck to the small, light battery operated model.

Reviewed by lovesmesomeSTP from Oregon on Tuesday, September 23, 2014

With a coupon, got this for a SONG! Bought three, want to buy more as gifts. Ya' just never know... this may come in handy some terrible day, and is small enough for easy stow, should one require running quickly away and hiding from the non-zombie cannibals ;). And no batteries needed? That's just too cool.

Verified Buyer

Reviewed by Sierras Hiker from Sierra Nevadas, CA on Thursday, June 12, 2014

I purchased this item for an upcoming trip out of the country. Although I am a massage therapist, in good shape with "guns", this item is just too much work...Sending back

Reviewed by Johnny the Hiker from New Mexico on Thursday, March 27, 2014

Since this item was purchased for an emergency situation there is little I can say except if it works as described I will be very happy during that emergency that has not happened as yet.

Reviewed by K from Idaho on Tuesday, March 4, 2014

Who needs batteries. This has a built in generator to power the electronics, which is perfect for those times when you need sterilized water and need to save your batteries for other items (may it be while camping for extended time, or during emergencies). I purchased two of these and tested them both. They both worked without any issues.

As for the ability to crank these things for the 90 seconds, I had no issues. Let me tell you why...
At first, I cranked it as shown in the video. This would be with the crank on the side and my entire arm moving the crank (should and elbow joints moving). This did become a bit tiresome quickly. Noticing this, I rotated the unit so that the crank was directly facing me. I then rotated the crank so that only my elbow join was moving. This was much easier to crank (using a stronger muscle) and I was easily able to finish cranking through the 90 seconds and also do another liter of water for another 90 seconds. For people struggling to crank through the 90 seconds, try rotating the unit and crank it from the end.

I recommend this to everyone.

Now my only small issue is that the bulb is good for 8000 usages, after which I cannot purchase replacement bulbs. The company will not sell them because they claim a special technician is required, so you must send the entire unit to them so they can replace it for you at $20 plus shipping (cost at the time of writing, may go up or down). I am an engineer/electrician for trade and am sure I can replace the bulb myself. Still, I cannot purchase the bulbs as they won't sell them to me. My guess is that they are holding onto an extra way to make more money.

Reviewed by steelbj from LA on Monday, August 12, 2013

It's very hard to get GREEN LED.

Reviewed by HikingSierra from california on Tuesday, July 9, 2013

I bought this from STP at least 6 months ago and never used it until this week, when I broke it out to test it in advance of an upcoming trip. Well, even after reading the instructions, following them to a T, and even having a friend try it, I could not get it to work. Even after the prescribed 90 seconds of fast cranking (which is harder than it sounds) the green lights showing the water was purified did not come on. I have returned it to SteriPen.

Reviewed by Barefoot Grandma from northwest indiana on Sunday, June 23, 2013

As reported in other reviews, it takes some work to get to purification level, but it can be done! The trick is to keep going for 90 seconds no matter what, set a timer so that you go the whole way, and like magic it releases and is done at exactly 90 seconds. I am a 66 year old woman and was able to do it once I learned the trick. My only complaint is that the regular water bottle top leaks like crazy. I am going to write to steripen about it and see if I can get a new top or bottle replacement.

Reviewed by tj from Minnesota on Wednesday, June 19, 2013

This is a very cool and seemingly effective device. The drawback is that it is hard to turn. If one's arm gets tired before the process is complete it is beneficial to have someone to hand it off too.

Reviewed by Tad from Virginia on Tuesday, April 9, 2013

Got this for emergency situations where power and clean water are not available. Comes with a pre-filter so that you can filter non-clear water prior to sterilizing. Great price at STP.