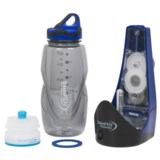 Closeouts. SteriPEN's Sidewinder battery-free UV water purifier is ideal for travel, camping off-the-grid or emergency situations. It uses a hand crank to power a UV light that purifies a liter of water in 90 seconds.
Average Rating based on
18
reviews
3.666666
0
5
Reviewed by Andy from Minnesota on Thursday, April 4, 2013

Tested at the house Easy to use!


Verified Buyer

Reviewed by Owi from Ellensburg, WA on Thursday, February 14, 2013

Great Item, seems very well made. Good to have on hand for those power outages, and spur of the moment remote hunting trips

Verified Buyer

Reviewed by jdub from Ann Arbor, Mi on Tuesday, January 29, 2013

Yes, it takes work to crank, and works as advertised when cranked correctly. But it does not use a battery at all, and is a great back up.

Verified Buyer

Reviewed by okunokata from Forest Ranch Ca. on Friday, January 18, 2013

Quite a workout but did not get sick!

Reviewed by Mountain Goat from Alabama on Sunday, December 23, 2012

I have used the battery operated version of Steri Pen for several years while hiking- works great. I like the idea of this unit not requiring batteries. You do have to crank it fairly fast- if you're too slow, the red light blinks. When 90 seconds is up, green light comes on and you're good to go. I did not find the cranking tension too hard. Easy to use and glad I got it. Giving several as gifts this year.

Verified Buyer

Reviewed by Ellie from Concord, MA on Friday, December 21, 2012

Haven't yet used it but it is enroute to a village in the Amazon where water quality is an issue and power/batteries are scarce for local residents. This item is perfect. We wish them well and I wish it were larger!!

Verified Buyer

Reviewed by wrier from Rocky Mtns Colo on Thursday, December 20, 2012

Extremely hard to crank even though I'm strong. Requires 2 people, one to hold down product while other person cranks. Product moves around while cranking if helper doesn't hold it down. Even though the red light system indicates we're cranking hard enough and long enough, the green "water is ready" light never appears. Have to crank over the recommended 90 seconds, kept it up over 3 minutes; no green light. Did this many times; product does not work and if you're not Hercules you'll have very hard time cranking for more than 30 seconds. Don't bother with this; buy battery op product and get hundreds of hours use w/one battery. TOTAL WASTE OF TIME/MONEY. SHOULDN'T HAVE THIS IN YOUR CATALOG UNLESS A WEIGHT LIFTER BUYS IT AND WHERE IS THAT GREEN LIGHT?

Reviewed by RJ from Rocky Mountains CO on Wednesday, December 12, 2012

Liked idea of hand-crank but have to be really strong to keep it going 90 seconds and even then, the green UV light that should say it's purified never lights up at all, even when we crank for over 5 minutes. Worst product. Reviews on other sites also say its hard to crank so I'm not only one who says this.