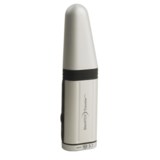 Closeouts. Perfect for backcountry treks and international travel, SteriPEN's Traveler mini water purifier kills 99.9% of bacteria, viruses and protozoa in a half-liter of water in 48 seconds with a touch of a button.
Average Rating based on
139
reviews
4.165467
0
5
Verified Buyer

Reviewed by JDivine from Richmond, Virginia on Tuesday, March 10, 2015

LOVE this item. Compared to what I was using it is like cutting butter.

Verified Buyer

Reviewed by Jim from AR on Sunday, February 1, 2015

Very compact. A lot easy to carry than a water filter. Saves a lot of pack room. The real proof of effectiveness comes after you purify some water and then don't get sick!!

Verified Buyer

Reviewed by n8tiv Idahoan from boise idaho on Wednesday, January 21, 2015

I purchased this unit for my son because I love mine. Include the pre-filter and you have a lightweight, durable and safe filter system for backpacking, hunting trips.

Verified Buyer

Reviewed by wncmountainboy from Southern Appalachia on Sunday, January 11, 2015

Haven't used yet...hopefully it passed its factory testing with flying colors. Would hate to get beaver fever if this thing doesn't work! Good price compared to other sellers. Thanks, STP

Verified Buyer

Reviewed by G-Law from Colorado on Monday, September 15, 2014

We didn't get sick, so it either works or we have strong stomachs. It is easy to use, but a tad finicky...so don't be afraid to zap the water a second time. The battery is a draw back and it didn't come with a carrying case/pouch. That said, well worth the money for a backpacker.

Verified Buyer

Reviewed by 12teachscience from Wyoming on Monday, August 11, 2014

2 companions and myself used this pen on an overnight backpack trip in the Tetons. It was light and easy to use. I assume it was effective. We did not get sick.

Verified Buyer

Reviewed by Jules from California on Friday, July 25, 2014

This was a pretty good price for a good product. We just took it on a backpacking trip about a week ago. Given that is was in N. America, virus's really aren't a big worry, so it was just for additional peace of mind. We used the Sawyer Squeeze filter first to filter a liter bottle of water, then used the SteriPEN in that filtered water for additional purification. The filter would have probably been enough to keep the water safe. The SteriPEN goes above and beyond the filter in that it takes care of virus's that the filter can't get, though, like I said, those really aren't much of a worry in N. America. The SteriPEN functioned just fine. We ended up treating just about 2+ gallons of water for the 3-day weekend trip for two people, and then filled both our 3L CamelBak bladders with more treated water for the hike back out, so maybe about 4 gallons of water total. You just press the button once (for 1L, twice for 1/2L) with the wand in the water, watch the blue/purple light come on, and stir it around (keep the wand covered in water) until the light turns off in the wand. The little LED light on the handle shows green to tell you it was successfully treated, or red if you need to try again. There's a light code key in the instructions. Of course I really have no idea whether or not there were really any virus's in there or not to begin with, so I can't really tell you whether it gave us added protection or not, but I know it felt good to know that, not only did we filter out what we could, but then purified it additionally after that. Worth the price, especially if you travel out of the country - I wouldn't go without this little device.

Verified Buyer

Reviewed by Anonymous from Taos, NM on Saturday, July 19, 2014

I don't usually rate items without field testing first, but this item comes with good reviews from around the internet. It is also very light and does not take up much room in my sling pack. I make trips down into the Rio Grande Gorge near my home in Taos where most hikes down to the river are about 800' elevation gain/loss over a mile and a half and it's a long, tough day of fishing and hiking. Finally, the purifier could be a life saver if dehydration becomes severe.



Verified Buyer

Reviewed by Evan from Newport Coast, CA on Sunday, June 29, 2014

Beautifully made, compact, works as advertised. A must for travel.

Verified Buyer

Reviewed by Dave the roadtripper from Colorado on Wednesday, June 4, 2014

This was quite inexpensive and is the same as the steripen adventurer but only that it has a shorter lifespan.