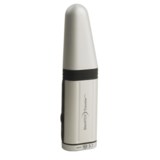 Closeouts. Perfect for backcountry treks and international travel, SteriPEN's Traveler mini water purifier kills 99.9% of bacteria, viruses and protozoa in a half-liter of water in 48 seconds with a touch of a button.
Average Rating based on
139
reviews
4.165467
0
5
Reviewed by None from New Mexico on Friday, February 14, 2014

This is an excellent means of purifying water in a light weight easy to use item. DO NOT DROP as the UV light will cease to function. Follow instructions! Fits in vests, chest packs, fanny packs. At the end of the day, remove the batteries as they will drain off their power if left in the unit. More fragile than Water Filtration Pumps but considerably smaller. Approximately 1/4 the size of my MSR, and considerably faster. Easier to use in a wide-mouth container. I rated this as 4 Star only because it requires batteries 2 at $10 a pop and no means of securing item to person's gear (Fragile). If dropped onto something solid, it will break the UV.


Reviewed by Rhonda the runner from Colorado on Wednesday, September 11, 2013

The first one of these that I purchased started malfunctioning after 6 months of very occasional use - not good when you're out in the backcountry and need to purify water. Hopefully the replacement I got won't do the same ...

Reviewed by GEH from Fl on Tuesday, August 27, 2013

convenient but water sensing bulb fails. Also off-standard battery problematic in remote areas that do have AAA, AA and C

Reviewed by Steve Feuerstein from NYC on Sunday, August 25, 2013

Used it on two extended trips. I'm still going strong. No apparent shortcomings of product. Glad that I purchased it as I am a camel when it comes to water consumption on lengthy treks. Made my outings far more enjoyable.

Reviewed by iluvboston from boston on Saturday, April 6, 2013

We just got back from Greece and Turkey. I purchased wide mouth water bottles for $1 and we used tap water the whole trip. It was easy and we didn't get sick. I figure we broke even on this trip so the next one we will be saving money. Very easy to use.

Reviewed by topshot from Maine on Thursday, March 7, 2013

The steriPEN is a great tool, and when I saw it at a great price with my e-coupon, I was excited to add this to my survival ensemble. However, there is a huge caveat: it uses two 123 lithium batteries, and these are getting harder and harder to find in this size, especially the super-long-lasting variety. Therefore, regrettably, I cannot recommend this particular model, and would suggest buying one that uses more common battery types.

Reviewed by Rockymountainhigher from Boulder on Friday, March 1, 2013

Have not gotten sick yet. Small and light. Batteries not too expensive, like $5 for two at Home Depot or Walmart.

Verified Buyer

Reviewed by Doc from Canon City, Col on Wednesday, February 27, 2013

The product is idiot proof. If you can read you can purify your water. It is light weight, compact, and reliable. I use it dayhiking in the mountains of colorado. I also use it as a backup to my Katadyn hiker pro on multi-day backpacking trips. It has been a life saver on two occasions while dayhiking and I ran out of water and needed more but was in Beaver country. The product purified the

Verified Buyer

Reviewed by wongster82 from NYC on Wednesday, February 13, 2013

Neat little device for the times you are unsure of the water quality.
I usually use it on tap water from outside the country (Asia) that I already boiled. Used it to my trip to Thailand, China, and Hong Kong.

Slow process, first off the water needs to be a cool 50ish, and the process takes 1.5 min for a 32 ounce.

Overall not too bad, for the price I paid and for the self-assurance.

Reviewed by Bigfoot from Seattle, WA on Sunday, February 10, 2013

My wife and I used this product consistently on a two-month trip across three third-world nations with very sketchy water quality, and never once got sick. 'Nuff said.