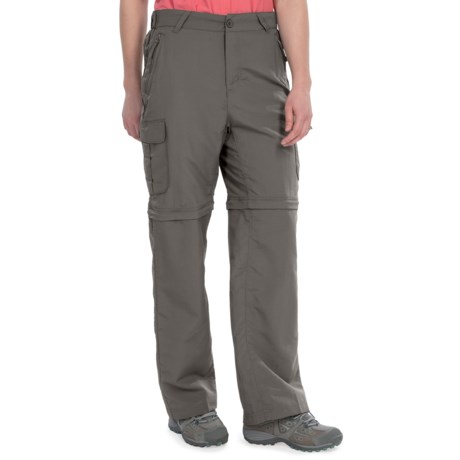 I'm not sure since I returned them - but I am 5'6" and around 130 lbs and felt they were too short for me.

Hi, I got the size 6 and was going to send back and exchange for 8 but I think I will keep these as a diet goal to get in to!! I SHOULD be a size 6 for my height, 5' 2 1/2". I really love these pants, I feel for the price they can't be beat, the picture makes them seem kind of manly cut, but they are very womanly cut. They sit at the waist and the rise I measured from top of waistband to the crotch seams is 10", the inseam for shorts is 9", and the total leg inseam is 29", I may not have to hem them when I have on boots, yippee! I think I may order another pair as for $23.50 they are great!! I love the Seneca color-- more a true khaki color then the picture shows. I love these pants as much as or more than the LL Bean $65 Tropicwear zip leg pants I also bought recently!! They don't seem to have printed my review for those other Stillwater pants, the ones for $23.95, they were awful!! way too small on top and ballooning pants, bad quality. The label inside these says "10,000 ft above sea level" but the plastic bag pants came in says Stillwater so I wonder if Stillwater makes the 10,000 feet line also. Hope this all helps! Sierra Gal p.s I think the specs say the inseam for size 10 is 30" so not sure what it would be for 8, 29" or 30"

The rise on the pair I received was 14 inches. I'm not sure what the inseam was, I'm sorry, but I'm a 30 length and they were probably close to a 31 or 32.