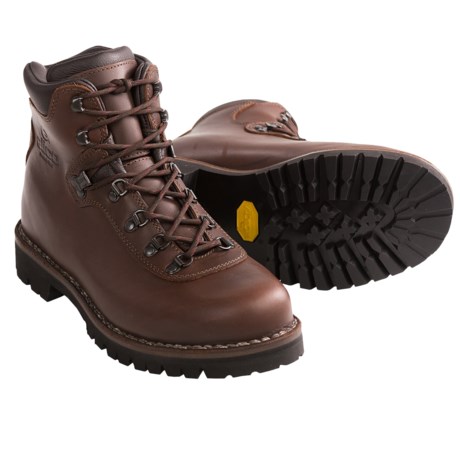 I don't know if you've discover this yet, it took me a while, but the tongue is actually two parts of this boot. The first is against the laces and the second is against your shin. The two pieces are help together using a piece of heavy weight velcro.

Try separating the two parts of the boot's tongue by pulling the two components apart (pull in opposing directs). You should now be able to position the tongue in just about any way you'd like.

Hope this helps.

If you wear longer socks it should be okay. Try not to ratchet them onto your feet initially. The boots have a long break-in period.

Maybe a leather balm or something of that nature to help soften the area, these boots do take time to break in, the tongue does take a little work but it is worth it. Work the area you need to flex with your hands and ask a boot shop for other tips, I would not give up my pair for squat.

Also, Re-Lace them differently a few times to create a different pattern over the area you want to change, check You tube for a bunch of ways, AND a different sock.

Are they the same size as your street shoes? What kind and weight of socks are you using? Do you have Mondo high arches?

I would not use these boots "around town" for the "urban outdoors" look. They are backpacking boots with Ton of support for sure footing when carrying a sizable load. I don't think they are going to "break in" like oxfords.

From my review on March 28th
"I wear a size 11EE street shoe but have typically sized up 1 size to a 12D (Reg) for hiking and climbing boots. With a heavy Wigwam wool hiker sock over a liner sock the fit seemed a little loose with too much heel lift, but after lacing up Tight and using a double overhand knot at the first set of (offset) hooks at the ankle they snugged right up. Finishing off with snug lacing to the top set of hooks, my feet and ankles are well supported but not pinched. There is plenty of room in the toe box and so far the supportive fit feels like my toes won't be jammed on a long/steep downhill stretch. BTW, those offset hooks at the ankle really provide for a better fit. I think there would be room for insoles with better arch support."

I sized up one full size and there is almost too much room with Heavy wool socks over a light liner sock. Today I tried some Sole EV Ed Viesturs (highest volume) footbeds and there just wasn't enough room, mainly in the toe box. But the Dean Karnazes DK medium volume footbeds were Perfect! Both types of footbeds have some SERIOUS architecture support.

No, I did not experience any discomfort.