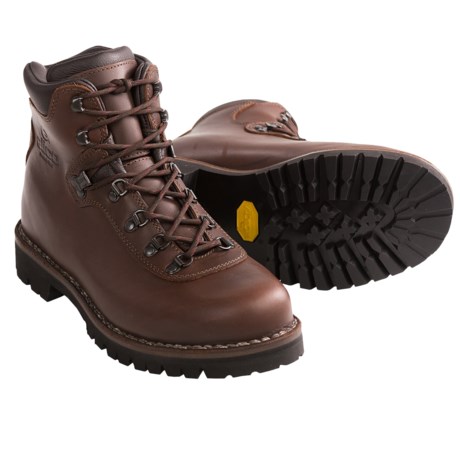 It all depends. For snow & -20 degree weather I would first waterproof with Sno-seal of equivalent, then I would invest in some quality socks - possible two pair -liner and heavy wool. The boots are roomy enough for my feet to fit in heavy socks. However, if you are 6'5" with a propensity for cold extremities like me, electric socks may be your best bet.

Sorry there is not a temperature rating. Most manufacturers do not have temperature ratings for their garments or footwear due to the number of factors that affect how warm a garment may keep you. These are not insulated.

Although these boots are not specifically designed for cold weather, I have used similar boots in -20 degree situations. For cold situations you want to avoid boots with a steel shank, steel screws or fasteners in the sole, or a steel toe. These boots have none of those, but they are not heavily insulated. You can use a two sock system (one light and one heavy) and generally do fine. If you are in very cold conditions for long periods, you may want to go to the "mountaineering" boot which is likely better insulated.

One way to find out, but have a pair of mountaineering boots with you, just like the third answer mentioned and the other two for socks, one can have a very different outcome with junk socks, or wool with the same boot.
Also, depends on the type of -20...being from Michigan, -20 is bone chilling due to type of humidity, dry is easier to manage.
I have been in wet and cold in these boots with no discomfort, I was amazed at how good my feet felt, but it was not -20. I have 200, 400 and 800 gram insulated boots for the cold, but not a pair of mountaineering yet.
Other things that matter, are you camping/hiking long term in that temp?, or going into town for a bit?, do you have merino wool socks, mid and heavy weight? liners?.
In that type of weather, one needs to be mindful of time, exposure and results of sweat, wicking and managing body temp by regulation.