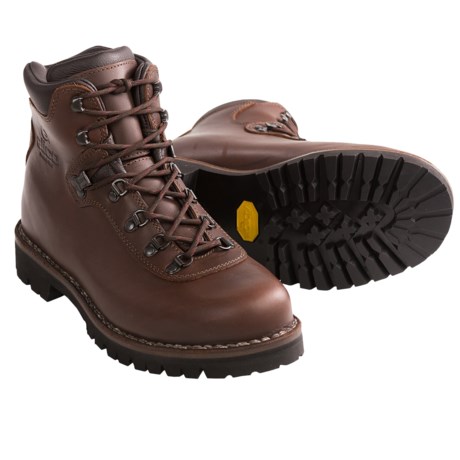 You Can't Beat Perfection
Reviewed by Hill4818 from Four Corners Region on Wednesday, July 3, 2013
Bought to replace my 13.5M Scarpa Rios, I've worn for 12 years, because of 'foot-spread' due to age and crappy feet, with the Alico Summit 14M. Since their arrival, I've worn them in the house, the yard and garden, city streets and park trails. In two months they will be off-trail in the high desert, where most of my trekking takes place, for 2 weeks. I've switched between Rios and Summits, and worn one of each at the same time. It is uncanny how similar they are to the Rios. There may be differences in the last, midsole, and shank. If so, they are not noticeable to me. Externally there are several differences in favor of the Summit. The tongue on the Summits is much better than the Rios, and the Summit's height makes it easier to lace down the collar. Locking the heel is more certain in the Summitts. Neutral (for me) differences: Montagna, rather than Roccia soles, the Rio has 5 pair of d-rings, the Summit 4, both have 3 hooks, one offset. The Rio's lacing hw is right into the boot leather, the Summit has additional leather double-stiched around the throat. Unless the next trek reveals it, I can find nothing about the Summit inferior to the Rio and some things that are better (and the Rios are my "perfect" boot that fit like gloves). The workmanship appears impeccable.

They should be comfortable right out of the box, and after two or so days of wearing them indoors, you should know whether they are for you. The right way to "break-in" is to wear them a lot. I have no idea how they would be for those who need waterproofing. I trek in very rough country with temps in the triple digits, and humidity in singles. I'm more concerned about the boots desiccating. I've only used a light application of Nikwax paste on the Rios before and after major (2 to 4 week) series of off-trail treks.

Foot: low arch, low instep, low volume, worn heels, PF
Worn with: Superfeet black, single Bridgedale Trekker Crew Sock, and flat laces.


Similar items and more information in the following areas: