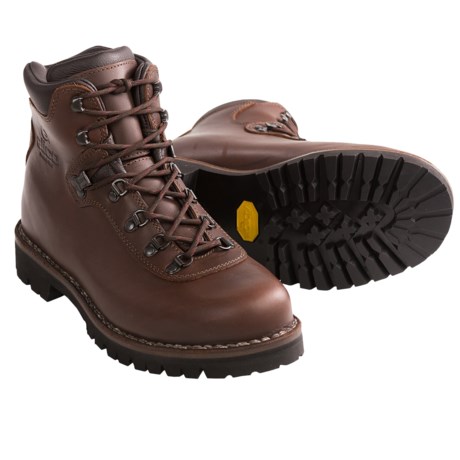 MAKING THE ULTIMATE BOOT MORE ULTIMATE FOR NARROW FEET
Reviewed by Sixchair from Planet Earth on Thursday, July 25, 2013
This is my 2nd pair of Alicos. Everyone else here shares my admiration for a truly fine boot. If you have worn only typical lightweight glued-up cloth/scrap boots until now, you're in for a revelation.

I just wanted to offer a couple of suggestions:

1. Waterproofing. since these are old school boots, no GTX etc. they are NOT waterproof. Their thick leather and top-notch tanning make them water resistant for a while. But you will have to waterproof. Which if you're a gear lover, you will find fun and rewarding. I recommend Sno Seal, applied as follows:
On a hot day, leave the boots in the sun to get them real warm, recognizing that each surface should get direct exposure to the sun (preferably treat in sections - top/tongue, left side, right side). When the boot is as warm as it can get, slop on the Sno Seal. Rub it in to the surface and return to the sun. Let it sit with the surface you just gooed up facing the sun for 15 minutes or so, taking time to rub the Sno Seal into your Alicos. The boots will literally soak up the Sno Seal.It will darken (mine are a nice deep chestnut brown!). Once the Sno Seal has been absorbed, repeat. Your will know your Alicos are completely waterproofed when they no longer absorb the Sno Seal. Be sure and soak the welt as well. I got lazy & tried the easy way with NikWax once. It doesn't absorb the way Sno Seal does and lasts maybe a day or 2 at most.

2. Get some Superfeet or other serious footbeds. I have narrow low volume feet - got the orange edition and put them in over 1 set of rubber spacers and now my Alicos when cinched properly are like a glove. After about 10 minutes of walking the leather literally shapes to your foot. Even otter paddles like mine.


Similar items and more information in the following areas: