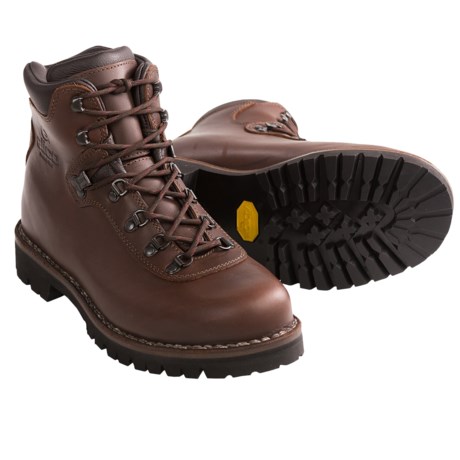 Outstanding, Comfortable, Stable, Servicable, Durable Boot.
Reviewed by Old geologist from Kansas on Thursday, August 22, 2013
I am an old guy backpacker having hiked in the past with large, heavy loads (40 – 50 lbs) on long back-country trips throughout Colorado and California. I also technical climbed in the distant past, so my perspective on what makes for a good boot may be somewhat skewed. Having written that, I appreciate the craftsmanship of a full-leather, stitch-down sole boot. The boot sole is not too stiff providing an adequate platform for all-perpose hiking. I would not necessarily want to try to "edge" wearing these. But, when properly laced for ascents or descents, I find the boot supportive of my ankles, even at odd angles. Being all leather the outside handles abrasion and rock cuts well (think metamorphic, i.e. sharp rock faces) and the aggressive lug sole grips well, even on wet rock. They also have an all leather liner which in my opinion is the BEST liner to have for a boot. I don't have trouble with foot perspiration and my feet are comfortable even in warm to hot, arid conditions. And because of the gusseted tongue, my feet stay dry even after shallow creek or snow-field traverses. I have worn fabric-based liners in fabric/leather based boot systems only to have the liner wear out in one year or less of moderate use. I also appreciate the D-ring lacing which allows you to creatively lace the boot to modify/correct for individual foot/boot interface issues. I've noticed in other reviews observations that cast doubt on the quality of construction. This is my 2nd pair of Alico boots (I have a lighter-weight pair that are now relegated to my work as a geologist) and I have not seen any issues with materials or workmanship with either pair ... and I've punished the first pair and I am working on the second. I purchased these boots with the intention that they would be the last pair I would buy (new). I may have to repair and hopefully wll need to resole a time or two, but I am confident that I will most likely wear out before they do. And finally Sierra Trading Post is great to work with. Their customer service is exemplary.
Similar items and more information in the following areas: