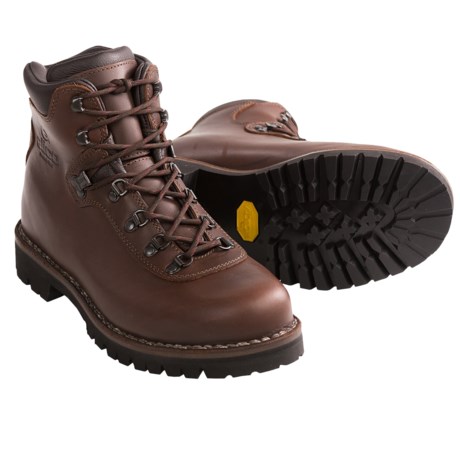 Great quality, old-school hiking boots
Reviewed by Handmade Boot Junkie from Ohio on Tuesday, December 2, 2014
I currently own four pairs of Alico hiking boots, mainly because of how impressed I was when I bought my first pair of Summits over 2 years ago. I would neatly summarize the other pairs as follows: The Tahoes are well-made, comfortable boots but don't have the ankle support that the Summits do. The New Guide Mountaineering boots are not suited for the average hiker or backpacker - while extremely tough and well-made, they've never broken in, and have caused serious blisters over both Achilles tendons all 5 or 6 times I've tried to walk further than a couple miles, and that's with two pairs of socks and appropriate lacing. I may try the "soak in hot water then take a hike" approach someday, just to see if I can get something back for the money I spent.

On the other hand, for me the Summits are "just right," as Goldilocks would say. They mold to your feet as they break in (which takes about 20-30 miles on the trail), and are very comfortable, for up to 16 miles at a time (the most I've done in them at once). They aren't made waterproof (no Gore-Tex), but I have fixed that problem with Sno-Seal. Not insulated, but this isn't a problem for all but the very coldest conditions, as long as you wear some thick wool socks. The Vibram sole is very grippy, and the Norwegian welt construction insures that when I finally wear down that sole (it's proving pretty durable, after more than a couple hundred miles of hiking), I can get it replaced at the local shoe repair shop.

I have had glue-on soles come apart on me, and this happened to my friend when we were in the middle of a hike at Big Bend National Park (without a spare pair). I'm not buying that kind of junk any more, and would rather spend my hard-earned dollars on this quality, hand-made Italian craftsmanship. Yes, these boots are heavier than the ones made with newer materials, but I feel this is a small trade-off when you consider the durability and comfort which you get in return.

To try and help others regarding sizing, I usually wear a size 11 sneaker (in this world of undersized, made-in-Asia products), but my true size in a dress shoe is a 10, regular width. With one pair of thick wool socks, the size 10 1/2 (medium-width) Summit fits me perfectly. I recently got a pair of 11 Wides, which are great for two pairs of thick socks, but I'd be swimming in them if I wore any less.

Have worn the Summits hiking in the Great Smoky Mountains, the Adirondacks, the National Forests and State Parks of NY, PA, and OH, and in the parks and forests around where I live. Highest recommendation, without reservation.

Similar items and more information in the following areas: