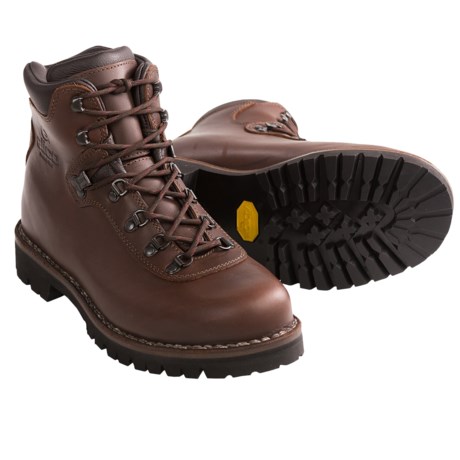 Alico Summit Boots - Excellent Design and Workmanship is a Blast from the Past
Reviewed by Brian from Washington State on Monday, March 28, 2016
I was a mountaineer from the early 70s through the early 90s. Lives change and I took a long hiatus from backcountry adventures until 5 years ago. My REI re-branded (Danner?) and Galiber Peuterey climbing boots with 3/4 steel shanks and Goodyear and Norwegian welt construction respectively from the 70s and 80s served me well; both having been resoled after countless outings and miles, but were 6+ lbs for size 12s. A more recent pair of Asolo boots with glued-on soles weighed 3 lbs 3 oz but after 60 miles or so the soles are worn down pretty far and separating from the upper. It was time to return to a pair of boots built to last and could be resoled at least once. IIRC Goodyear welts are good for one or two resoles, Norwegian welts can be resoled multiple times. After seeing the astronomical prices for well built boots, and prices for boots with glued-on soles that cost more than I paid for the very stout Galibers I stumbled across the Alico Summit. I was real hesitant about buying boots online but a highly detailed STP review by "hikermike from LaGrange GA" extolling the virtues of the Alico Guide, Summit and Tahoe boots, other highly positive reviews on the Summit, the rock bottom STP pricing and Customer Service convinced me to take a chance.

Initial impression is that the Alico Summit Boots are very well designed and built boots, and the full grain leather uppers look beautiful. The kitchen scale says the Alico Summit boots weigh 4 lbs 6 oz in a size 12D; not bad. The uppers on my old boots were rough-out (not suede) full grain leather that resists, or at least doesn't show scuffing. The Summit boots have the smooth finish on the outside that will scuff so they will need at least two or three coats of a good non-petroleum-based preservative; I've ordered some Obernauf's LP before going outside. I believe these will gain a well-worn patina during their first trip but I use leather roper cowboy boots for working around the property and they clean up nicely with a good boot conditioner cream. The padded leather lining looks and feels nice but really can't be felt through the socks. Unlike my old climbing boots' leather linings, the Summit linings are glove soft. Only time will tell if they are durable. I cannot find any tech specs on the Alico website gives no tech specs but one of the STP answers to a question was they have a 1/2 shank; probably rigid plastic or fiberglass. The midsole and stock insoles provide more arch support than my old climbing boots do. Time will tell if I need to get some upgraded insoles.

I wear a size 11EE street shoe but have typically sized up 1 size to a 12D (Reg) for hiking and climbing boots. With a Wigwam wool hiker sock over a liner sock the fit seemed a little loose with too much heel lift, but after lacing up Tight and using a double overhand knot at the first set of (offset) hooks at the ankle they snugged right up. Finishing off with snug lacing to the top set of hooks, my feet and ankles are well supported but not pinched. There is plenty of room in the toe box and so far the supportive fit feels like my toes won't be jammed on a long/steep downhill stretch. BTW, those offset hooks at the ankle really provide for a better fit. I think there would be room for insoles with better arch support.

At first the boots felt pretty stiff but after being warmed up by my feet the leather has form-fitted well to my feet. I would NOT buy these as street shoes but as backpacking boots with heavy wool hiker socks over liner socks, I believe these will need little or no break-in. So far I am very-very pleased with this purchase.
Similar items and more information in the following areas: