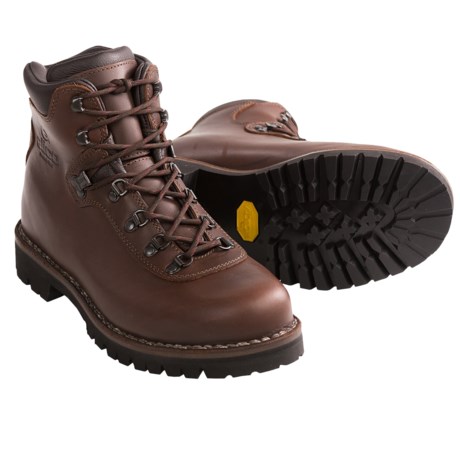 Great all-around boot
Reviewed by Archaeo_Louis from Oregon on Thursday, April 6, 2017
I purchased a pair of Alico Summit boots roughly two years ago. I was in the market for a new pair since my old boots only lasted about 6 months. I needed something sturdy for work that would stand up to the harsh treatment I give them. I do fieldwork/survey work throughout the Pacific Northwest and previous boots with their supposedly "Gore-tex" lining would maybe stay waterproof for a month or two before my feet got drenched. These boots have seen 100 degree weather through desert and shrub-steppe environments of central Washington, as well as bushwhacking through heavily forested and wet landscapes throughout the Cascades. They have worked like a dream and my feet have stayed dry even through downpours while outside for 8-10 hours. As many have noted, I did change out the thin insole on day one of receiving these.

A few tips that you may want to know: First off, maintenance! Maintaining your boots is key if you want them to stay waterproof. I'm not saying you have to diligently clean them every day but when I put them through a thrashing for a full week, on the weekend I'll brush them off and get as much dirt off as possible. Followed by a wash with saddle soap or a coat of Obenauf's LP, occasionally I would even do both. If you're pretty light on your boots I would still do it every one or two months to help protect them. At one point I slacked on this and noticed after some fieldwork that the leather had water-staining. So they will take in water if you don't maintain them!

Second, the break in period. Some have said that they didn't have much of a break in period. I wore these around for a couple weeks before using them for fieldwork and they were still pretty stiff. After a couple 10 mile days I occasionally would have a hot spot on my heal from slippage, but this can usually be fixed by proper lacing, also I would wear a medium thickness hiking sock which helped keep things snug. Play around with some lacing techniques and see what works best for you. I found that the Ladder Lacing technique, usually used on military boots, worked best for me. It essentially places lace locks on each tier and keeps everything tight. This was great during the break in period when things are softening and shifting.

Third, tongue slip. During the first month I had quite a bit of tongue slip on one of the boots, my solution was to get a pair of metal jean buttons, cut a tiny whole and used channel lock pliers to clamp them on. Then I could just lace around these and the boot tongue stayed in place. Not sure what I mean? Take a look at the tongue on a pair of Lowa Gavia boots.

Overall, these have been great boots and I feel they'll last for many more years. The only complaint I have is their weight, which I only really notice when hiking up continuous elevation gains. Then you get one heck of a leg workout. But it's the price you pay for sturdy boots. Ones that have likely already saved me hundreds of dollars.
Similar items and more information in the following areas: