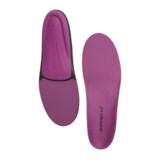 Closeouts. Recommended for women with medium to high arches, Superfeet's Berry trim-to-fit insoles supply top-notch shock absorption during high-impact activities like running, hiking or working in an industrial capacity.
Average Rating based on
16
reviews
4.687500
0
5
Verified Buyer

Reviewed by quality shopper on a budget from Missouri on Monday, January 12, 2015

When I fit these soles into the shoes they were VERY tight due to the thickness of the sole. In addition, I have high arches and the arches in these insoles didn't support my feet very well.

Verified Buyer

Reviewed by Dayton from California on Sunday, September 14, 2014

This version is for females. Better cushioning compared to the superfeet green.

Verified Buyer

Reviewed by happy feet from cleveland on Monday, September 1, 2014

I kept buying shoes, and shoes and more shoes. I have pf and finding something that wasn't going to leave me crippled at the end of the day was exhausting. I bought a pair of these and forgot about them. they resurfaced and I thought..eh, might as well give them a try, which I did and for which I am eternally grateful that I found them. My feet haven't hurt since putting these in. They have corrected the pf in my feet. However, it has not corrected the knee pain I have been getting. (Also, I didn't do the hardening in steps, one-two hours first day, three to four hours the second day.

Reviewed by adobe goddess from NM on Saturday, August 30, 2014

These fit much better than the unisex super feet insoles for me. I got them at a great price on stp. I have wide toes and narrow heels. I also have plantar facaiitis from time to time. These shoes fit well into my keen shoes and make impossible styles possible. I really like these. An added plus they are cheaper than custom orthotics as well as look better than the rx ones.

Reviewed by luckyjt from Norther California on Saturday, February 8, 2014

Great cushioning & support for my normal (falling) arches. It does take up more space in my boots and it works only if I wear thin socks.


Reviewed by That B__ with the Backpack from San Diego, CA on Friday, January 3, 2014

Finally, an insole that works for my narrow heel and high arches. I use these in my hiking boots and have never felt better. Give them some break-in period - don't be discouraged if they don't feel great the first day. They must be broken in just like a pair of shoes. They will get more flexible after a few days.

Reviewed by Kitty Girl from Georgia on Thursday, December 26, 2013

These are surprisingly comfortable to walk on. Great if your foot pads are beginning to thin - happens as folks age.

Reviewed by Timid Intrepid from Alaska on Thursday, October 24, 2013

These insoles were recommended to me for ankle pronation and they help a lot with that.

Reviewed by Christine from Florida on Tuesday, April 9, 2013

Superfeet are essential for all my footware. They have helped to eliminate my plantar fasciitis and all pain in my arches. The berry color inserts have good cushioning in the front and I use them for my running shoes.

Verified Buyer

Reviewed by Flygirl from Castle Rock, CO on Tuesday, February 26, 2013

This is my third pair. I started with a pair in my running shoes and my plantar fasciitis hasn't acted up since. Got tired of switching them to other shoes. Now I have them in my hiking and golf shoes too.