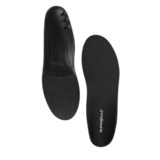 Closeouts. Superfeet's Black trim-to-fit insoles supply more than just cushion -- utilizing exclusive Encapsulating Stabilizer System technology, they also position feet to perform in their optimal functioning condition.
Average Rating based on
8
reviews
4.375000
0
5
Verified Buyer

Reviewed by Willow from Oregon on Sunday, November 29, 2015

Husband usually wears the green superfeet in all of his shoes, tried these this time for his zero-drop running shoes. These are working well, providing perfect amount of support.

Reviewed by Shun Lover from Los Almos, NM on Monday, October 7, 2013

I lave low arches and needed more stability than cushioning. They do not provide much cushioning but do keep your feet from pronating or other ways your feet may "slouch" or not align properly. I have had to learn to walk properly after a knee replacement since to compensate for my knee my right foot had developed a 30 degree angle from straight. After walking with these gor 3 months my foot is now straight, although it is as much from concentrating as the insoles, but they help.
They are not a cushion type insole which most shoes come with so do not feel as comfortable at first. But the foam in the cushion insoles does break down and then you have a soft but non supportive insole.
My only complaint is the same as the rest. Why are they on the small size of a given range when they say "cut to fit". Anyone would think size G (13.5-15) would be a little on the large size of 15 but they are just barely 15, more like a 14.5. Since I need the largest size they make this is a bit of an issue but not a big one. Just surprising.

Verified Buyer

Reviewed by Gary from Scaggsville, MD on Wednesday, February 27, 2013

Superfeet Black insoles are made to fit into shoes that are not spacious. They are fairly compact but still supportive. The Orange and Green insoles are thicker but provide more cushion; some with flat feet will prefer Black as the arch support is less pronounced. Like other Superfeet insoles, these fit the smaller end of the size range listed; for example I bought size E for size 9.5 to 11 shoes

Verified Buyer

Reviewed by chuck b from woodridge IL on Monday, January 7, 2013

superfeet arch supports have helped my knee problems for years. these thin black ones are great for smaller shoes like minimalist shoes. Yes, thats kinda counter-intuitive to the idea of minimalist shoes, but it works. they have tabs under the sides of the heel (prob. for stabilization) I just sand those down to make them fit.

Verified Buyer

Reviewed by Mom in Colorado from Colorado on Thursday, December 27, 2012

My son has been using these for years in his hockey skates. The Super Feet meant for skates have very high arches, which don't work for him. They are very easy to trim and work great. The price at STP is better that we usually have to pay.

Verified Buyer

Reviewed by suski35 from ny,ny on Thursday, June 7, 2012

Hard to use.

Verified Buyer

Reviewed by Brett from Colo on Tuesday, November 15, 2011

Very comfortable

Best Uses: Hiking
Pros: Great Fit

Verified Buyer

Reviewed by Termie from Washington, DC on Sunday, October 23, 2011

I have been using Superfeet heel inserts for almost a year now on the advice of my physical therapist, and they have been instrumental in reducing knee pain. I wanted these full-sized insoles for exercise (the heel inserts are hard plastic and not made for exercise).

Unfortunately, this product is not sized correctly. I ordered the 9.5-11, having a size 11 foot, but the product was too short. My toes hung over the edge, which was extremely uncomfortable. They are "trim-to-fit," so one would think they'd be designed to be a bit longer than necessary, but apparently not.

I gave them to my girlfriend, who wears a 10.5 womens (the minimum size listed for this product). These fit her perfectly, and she uses them everyday, without cutting them to size. I'd say they would work for a men's 10 as the upper limit.