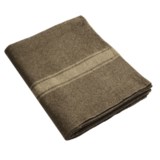 Closeouts. The Swiss-Link Italian wool army blanket is crafted of thick, 100% wool for warmth and durability other fibers simply can't deliver.
Great for camping, hunting and home use
Heavyweight wool is extremely warm and durable
Dimensions: 73x65"
Material: Wool
Care: Dry clean
Made in Italy

These blankets may smell heavily of naphthalene due to their storage with mothballs. The blankets have not been chemically treated. Normally, this penetrating odor can be eliminated with two cleanings or simply by airing it out in an open area.
Average Rating based on
69
reviews
4.159420
0
5
Reviewed by Joey Bonzi from St.Louis, MI on Monday, June 27, 2011

Love the weight and muted color. Super price for all wool...no blend. I have read the complains about odor. I have a deviated septem and can't smell the moth balls; however, I have noticed the air taste funny. Buy several... you will be glad.

Best Uses: Winter
Cons: Difficult to Clean
Describe Yourself: Midrange Shopper
Pros: Attractive Design, Comfortable, Warm

Verified Buyer

Reviewed by MD-Thoms from Vancouver, BC on Thursday, March 31, 2011

I bought three of these blankets. Some for camping and others for hydrotherapy treatments such as a Sitz Bath where the person is sitting in a chair with their feet in a container of hot water. The body of the person is then wrapped up in a sheet then the wool blanket to make the person sweat. This and many more treatments can be found in this excellent resource book called, "The Natural Remedies Encyclopedia".

The moth ball smell was very strong and nauseating. We found the best way to get the odour out is to wash the blackets twice one with soap then again with baking soda on gentle cycle. You can put them in the dryer on low for a bit and then they need outdoor exposure to the sun for the day. Hope this helps.

Best Uses: Cooler times treatments
Cons: Wool still itchy
Describe Yourself: Midrange Shopper
Pros: Durabilty and warmth

Verified Buyer

Reviewed by Greg from Flagstaff, AZ on Saturday, March 26, 2011

Blankets were $10 more expensive per blanket than I bought at [...] (same exact blanket)

Best Uses: Year-round
Cons: One had small stain on it
Describe Yourself: Midrange Shopper
Pros: Comfortable

Verified Buyer

Reviewed by Snuggles from Montreal, QC on Tuesday, March 22, 2011

My girlfriend doesn't want it in the apartment, but once I get the smell out I'm sure she'll be swayed. Quality like this,at this price,is worth a little effort!

Describe Yourself: Budget Shopper

Verified Buyer

Reviewed by highlander from mound mn on Friday, March 18, 2011

hard to find at this price

will get years of use and will be handed down.

Great value!

Best Uses: Spring/Fall, Winter
Describe Yourself: High-end Shopper

Verified Buyer

Reviewed by graywolf50 from Belgium on Wednesday, March 16, 2011

quality of the blankets is perfect, condition great. Only you have to air them a bit before usage in the field.

Best Uses: Year-round
Cons: Smelly but was expected
Describe Yourself: High-end Shopper
Pros: Price quality perfect

Verified Buyer

Reviewed by Elaine from Jackson, WY on Wednesday, March 16, 2011

I wanted a blanket that could serve as a blanket and an attractive bed covering for a daybed. This is in a spare bedroom that doubles as an office. It has the casual but comfortable look I wanted. The smell that so many people don't like has not been a problem. I put it in the garage for a day and then moved it indoors.

Best Uses: Year-round
Describe Yourself: Budget Shopper
Pros: Attractive Design, Comfortable, It is also good looking, This blanket is warm

Verified Buyer

Reviewed by Linus from Tustin on Tuesday, March 15, 2011

I bought two of these blankets. My main use was to use them in my yoga practice. However they are so handsome & well made that they have become the blankets I go for when I am cold, or just looking for a little comfort. These are thick well made wool blankets that are just the right size. I am 6'2 & one blanket keeps me comfortable & covers me quite well while I am in bed, or reading a book in my favorite chair. If you are looking for a soft blanket this is not the blanket for you. It is real wool. It washes up very very well. I used the hand wash cycle, a wool friendly detergent, & a small amount of fabric softener. Doing this made it as soft as wool can be. The smell that comes with the blankets, at no extra charge, was very strong. However it was not all that hard to remove. I opened the box outside & left the blankets to air out for 3 days. If you are looking for a great wool blanket buy this one. Once the smell is gone you won't regret it.

Best Uses: Cabin, Camping, Outdoors, Winter, Yoga
Cons: Smelly
Describe Yourself: Budget Shopper
Pros: Attractive Design, Easy To Clean, Quality, Thick, Versatile, Warm Comfy

Reviewed by luv2shop from Midwest on Friday, March 11, 2011

I am very happy with the quality of these blankets. Bought 2 to keep for emergencies in each car. Very large & thick. Yes they had a horrible odor upon arrival. DO NOT OPEN THE SHIPPING BOX IN THE HOUSE!! I opened the box upon arrival outside on my deck. The smell was like everyone else has said. STRONG! I threw them over the rail of my deck & forgot about them for 2 weeks. Through pouring rain, sleet, & snow. Chicago's finest February weather. Two weeks later on a sunny dry day, I walked out there to check on them & they were great. Smell is completely gone!! They still feel nice & soft. If you can get past the first few weeks, these are an unbelievable buy. [...] Wish I would have gotten a few more.

Describe Yourself: Midrange Shopper

Verified Buyer

Reviewed by Snosbig from Nu Joizee on Tuesday, March 8, 2011

[...] It's not soft, but is extremely durable and will last for many years

Best Uses: Winter
Cons: Itchy
Describe Yourself: Midrange Shopper
Pros: Attractive Design, Well made