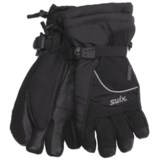 Closeouts. Adapting to the conditions is easy with Swix Apex gloves, featuring a waterproof, insulated shell glove and stretchy microfleece liner glove that can be worn separate or combined, depending on how much coverage you need.
Average Rating based on
26
reviews
4.346153
0
5
Reviewed by Jory S. from Orlando, FL on Monday, February 17, 2014

Got these gloves for my husband and he finally got to use them last week on our trip. All week he kept complaining about what a pain it was to put the glove back on after taking it off. The inside liners make it difficult for you to put your hand back in each finger tip and if you are wearing an extra liner, it makes it even harder. The built in liner gets caught and bunches, making it impossible to get your fingers in comfortably. Disappointed because it was a great glove and it kept his hands warm and dry. Will be returning these today.

Reviewed by Joolieboo from Massachusetts on Wednesday, January 29, 2014

These are a solid glove with a few short comings. The gloves come with liners, which you can either wear inside the gloves for extra warmth or on their own in warmer weather (think spring skiing). The palm of the glove is leather, which I liked. Two things I didn't love about these - first, they don't have space for hand warmers; second, the top side of the glove has a small area of spandex type material (not nylon) which seems like it would suck in water. I've purchased other Swix gloves for twice the price, so this is a good buy if you're trying to be economical.

Reviewed by Joseph Liechty from northern Indiana on Saturday, January 25, 2014

In mid-December, I rode my bike to work one day when the wind chill was -13 F, and my fingers and face were numb in about half a mile, so I knew I had to upgrade. After fairly thorough research, these gloves looked like the best value for money solution to the fingers problem. They've had a rugged workout in January, as we've routinely had wind chills of -20 to -40, and I've been quite satisfied. Caveat: my ride to work is only a little over a mile. I've not tried them for a longer distance, nor do I intend to in these temperatures!

Reviewed by Danielle mother of 4 boys and two grandsons... from Love my boys on Sunday, January 19, 2014

Just what I was looking for!
Ski Gloves for my 12 and 14year old boys. Ordered men's small
Hunting gloves for my husband so his hands can stay warm but he can take his gloves off when he needs to shoot.
And for me.... Who walks 3 blocks to work but needs a pair of thin driving gloves ... Love them!

Reviewed by BMW from Columbus Ohio on Saturday, January 18, 2014

The Product Looks, Feels and Smells of Quality. Pull Strap and glove snaps are quality for this price range. Medium Fit for my Medium to Small hand was Excellent. 3-in-1 provides multiply options over standard gloves. Under average winter temps I prefer no liners. I use them primarily for Skiing. If you know your size, brands and do a little online research you'll come to the same conclusion I did, "Why pay $75 Ski Shop Retail Prices when you can find quality close-out models on STP for $25?" Regarding STP: Customer return/exchange flexibility, service and help is OUTSTANDING. Along with the weekly bonus discount coupons I've become so addicted to STP that my wife wants me to go to a detox clinic.

Reviewed by Cape Cod mom from Massachusetts on Saturday, January 18, 2014

I bought these gloves for every man on my Christmas list (5) because they all have to frequently deal with shoveling, cleaning snow from cars, and snowblowing in our New England winters. A common complaint is cold hands while snowblowing because the hands stay still the whole time. We had some deep snow shortly after Christmas and my husband used these to run the snowblower and his hands stayed warm. I love that they are waterproof, have a double layer (liner gloves) for extra warmth, and come up high on the wrist to keep out snow while working. They have leather palms for a good grip.

Reviewed by Griff from Windsor on Monday, January 13, 2014

very nice product well made and very warm. Price can't be beat for a product of this quality.

Reviewed by Gene Smith from Peru, IN on Sunday, January 12, 2014

Good product, recommend

Reviewed by Brandy from Wyoming on Saturday, January 11, 2014

My husband lost a glove off of the ski lift and I bought these to replace them. He loves these gloves! They are so warm and a great quality! Great price!

Reviewed by oteg from low in the high san berdoos on Tuesday, January 7, 2014

Howdy glove fans. These were a pretty good deal for the price. Unfortunately, I expected the quality to reflect MSRP despite the… what was the STP markdown? 70%+? Not bad. But also not great. Initial examination showed the fingers' stitching to be pulling loose already. Your results may vary. Do not attempt this at home. Or do. Yes, do.

Anyway, I ignored the cited defect sufficiently to try them on. They were to bulky to suit my poor tastes. That was it; back they went. Love STP as much as ever, though. Except that their website's like drugs to me. It seems unhealthy. But I like it. No, I don't. Yes.