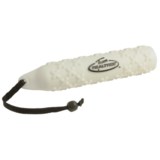 Closeouts. Train your dog for long days in the field with Team Realtree's rubber dog training dummy. The small size is perfect for dogs six months or younger.
Average Rating based on
6
reviews
3.666666
0
5
Verified Buyer

Reviewed by Tay from Oregon on Wednesday, April 23, 2014

Love the small size for my 17 lb mutt, he zoomed around the park with this and loved playing fetch. The string is pretty lightweight and he chewed it off in the first 3 minutes, so I replaced it with something stronger, but for the price, it's a winner! The rubber is tough, but soft, I think it will hold up well.

Reviewed by shopper from Georga on Thursday, December 26, 2013

small size means what expect for small dummy, works for small mouthed dogs (spanial in my case). Has some give, not hard as a rock. Note does not have air release valve, but for the price no complaints.

Reviewed by Mississippi Mud Bug from Minneapolis, MN on Wednesday, September 18, 2013

My dog frequents a large offleash park on the Mississippi River. He loves to water retrieve but has worn his teeth down from tennis balls and logs, and since it is a dog park, no point in bringing pricey toys. Enter these bargain priced dummies...they suit the purpose well, they float, can be thrown far, and my dog loves them. These dummies are not desirable to most other dogs, so they don't get lost.

Reviewed by InTheWoods from New Hampshire on Wednesday, August 14, 2013

I am dumbfounded at the other review that says a tiny Dachshund destroyed it immediately and that the rubber is cheap and awful. Maybe they changed manufacturers or something but I was pleasantly surprised at how thick and rubbery this was. After reading that other review I half expected light plastic. To be clear though, this isn't meant to be a chew toy, so maybe that's why some were disappointed. I use mine with my 2-year old Border Collie mix for exercise, she loves to run and get it. I'm also slightly surprised to see this advertised as "ideal for puppies" because she just barely fits this in her mouth, it took a little getting used to. Large breed puppies maybe. It's not huge, but it's not tiny. I'm surprised the other reviewer's "tiny" Dachshund could even carry it actually. IF I let my dog keep it and chew on it, yes, she'd destroy it before long, but again I stress that's not what it's meant for. It's a retrieval tool that gets put away after exercise, so your happiness with this item may depend on how you plan to use it.

Reviewed by Dave the Outdoorsman from Davis on Sunday, July 21, 2013

This is just like everyone says, useless. I had my tiny little daschund play with this toy and he tore it up within 15 minutes, useless and a mess. The rubber is incredibly poor and made in China. Not to say all things out of China are bad (Apple iPhone's are made there) but this one in particular lives up to the stereotype. Didn't even want to return to Sierra Trading Post because shipping costs more to return these horrifically bad items and I would end up getting NOTHING back in my return.

DO NOT BUY THIS IF YOU VALUE YOUR MONEY, Go buy something else. This is BAD. And that's an understatement.

Reviewed by Anonymous from Pasadena on Friday, May 10, 2013

Disclaimer: I am not a hunter.
I had this brilliant idea. I was going to train Jack to hold it in his mouth in stead of barking when he is nervous. It did not work.