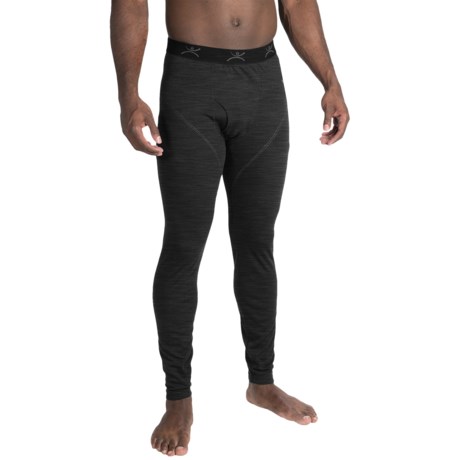 Bob, I am a 34 waist, 5'11" and 165 and the large is just a wee bit large but I like the extra room. I would think the large would work for you also. Rick

I'm 34" waist, 5' 6" and 164lb. Mine are size medium and fit comfortably, definitely not tight. I don't think an extra inch or two would make a difference. The length is definitely more than sufficient for me. You might wish the mediums were an inch longer, but you'd also wish the large weren't so loose at the waist. I'd say go with the medium, assuming the obvious; you'll be wearing warm socks that come well above your ankles.

These really are a nice product. The thickness is about medium weight. The product description says they're heavyweight, which I expect is correct in terms of temperature control. I've not tested them in the wilderness, so I can't speak to how they compare to other heavyweight base layers.

Have fun!!!

HI. I would buy a different pair. I loved these at first and my husband did as well. The combo of wool makes for a nice, thin and very warm layer. However, the elastic waistband began to lose it's elasticity just after 6 washings, therefor it wouldn't matter what size you get because after 6 washings, any size will fit you! I wanted to return these but decided not to spend the postage to do so.