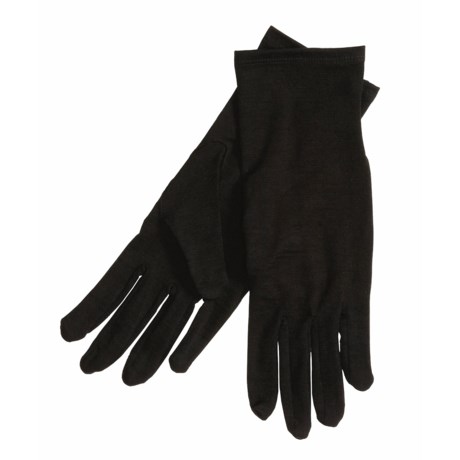 wanted to love them, but....
Verified Buyer
Reviewed by Jen R from Ohio on Tuesday, February 3, 2015
I am a veteran of the merino glove liner wars. I have had many pairs, no fewer than 3 different models/manufacturers, all of which failed somehow and in an unreasonably short timeframe. Holes wear through at pressure points or appear in other seemingly random locations; seams come apart; threads fray and curl.

I had one pair I thought was the solution: Terramar Woolskins. Our family had had other good experiences with other products made by the brand. After a brief period of bliss, I lost one, and the honeymoon was over.

I couldn't find Woolskins the next time I looked, so I got Terramar Thermawool: same material content, same company but turned out a very different product - thinner, flatter weave. At first I thought they might be even better! But within 2 months I noticed curly white threads appearing all along the finger seams. It appeared to be spandex threads that had broken and were now poking out. Frustrating and disappointing!

Fast forward a year and I'm looking again. Imaging my delight when a fellow purchaser on this website told me these very gloves were in fact labeled Woolskins!! I was so excited I bought two pairs - and on a closeout price, what a deal!

I made the purchase January 19 and the gloves arrived probably 2-3 days later... I was thrilled that they were a match with my old unmated and barely-worn Woolskin. I started wearing them for the usual tasks - both alone and as a liner - light use such as driving or going on walks. I didn't wear them to haul firewood, I swear!! But in less than 2 weeks the telltale white spandex threads began to appear along the finger seams. I also noticed when I took a closer look that there were several spots wearing thin - not even all in places that are subjected to a lot of rubbing such as fingertips!

A note on the fit of these gloves: I'm a woman of medium build, 5'8"; hand circumference of about 8.25" at the widest part (knuckles at base of fingers) and middle finger 3.25" long. I ordered size large as that's what I usually wear in this type of glove. The fingers weren't quite long enough and the overall fit was loose/baggy, not snug as one would expect liners to be.

To their credit, STP was very responsive when I contacted them. The gloves are on their way back and I'll be receiving a full refund, including my initial shipping cost.

And now I'm on the hunt again... there are still at least 6 weeks of winter left.
Most helpful positive reviews
Most helpful negative reviews
Similar items and more information in the following areas: