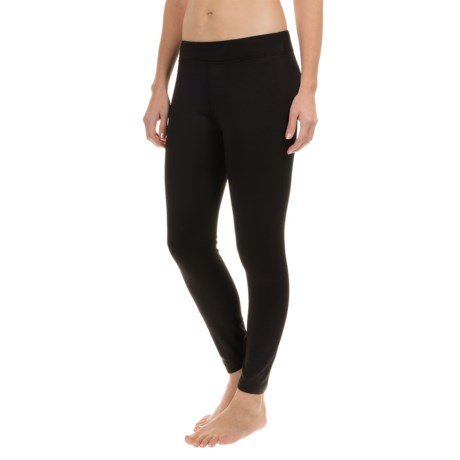 I haven't used them for that purpose, but I think you could easily use them under snow pants. They are really warm. I'm 5'4 120 and I got a small, so probably a medium, because they are just right for me...and might be a little tight for you.

The tights run VERY small. I would guess that you would need an xl. I included the measurements in a review....perhaps you can look for them? They are warm and would be perfect under ski pants I would think. I have the pants and they are warm. They are low rise.

My wife found them sufficiently warm for limited time outdoors in Skagway Alaska during the last week of December 2013, with temperatures in the teens Fahrenheit. She says the tights stayed in place . She did say she wised they had a higher waist. My wife is 5'10" and size (14-16) she was happy with women's XL.

They are quite warm. I've only been skiing a couple of times and I think these would be fine under snow pants. Yes they will stay in place. They have a good tight waist band. I'm 5'5 and I thought they were fine for my height so they should fit you perfect. Somewhat true to size. They were a little tighter than I thought they would.

Sizing wise, I say you are in between M and L, depending on if you like a little tight/short, or a bit roomy (not baggy). I use them for 8 degree downhill underliner and 23 degree cross country skiing, works perfect for me. I personally think this fleece pants are every bit as good (or better) than the pricy Underarmor warm underliners. I will buy more of this brand in grid fleece. Oh, they don't make statics sparks!